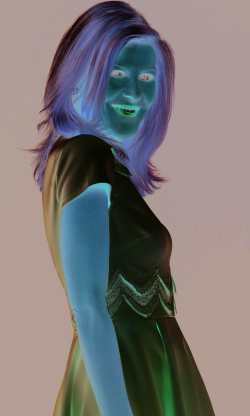 Alley Mills stars in "The Bold and the Beautiful"
The Bold and the Beautiful
Ridge sits down with Steffy and has a heartwarming father-daughter chat about Phoebe and her place within the family. Zoe panics when she realizes that Flo is about to tell Hope the truth, and jumps into their conversation in an attempt to stop her. Hope stuns Liam when she tells him she's met Phoebe's birth mother. Wyatt and Flo discuss their past, and Zoe plans a romantic evening with Xander. Flo is invited to dinner at Wyatt and Sally's, and Hope tries to talk Liam out of attending the get together. Hope and Flo recognize each other right away when they arrive at the dinner, and Wyatt is shocked to learn that Flo lied to him about having kids. Sally does her best to break the tension. Zoe and Xander's relationship heats up, and Zoe expresses her love. Steffy lets Taylor know that Hope wants her to reunite with Liam. Flo encourages Hope to think about having another child. Zoe confronts Flo about the dinner at Wyall's house, and worries about going to jail if the truth comes out.
Days of Our Lives
JJ lets Haley know that Eli and Lani are searching for her at the hospital. Ben insists that breaking up with Ciara is the best way to avoid hurting her. Kate lets Rafe know exactly what she thinks about Tex, and Hope learns yet another secret from Ted's past. Tripp hides Haley at the loft, and Chloe thinks someone might be watching her. Rex wants Eric to convince Sarah to say yes. John is confronted about Leo's paternity. Will and Sonny break the law in the hunt for ammunition against Leo. Rex steps in when an armed man appears to be stalking Chloe. Brady wants to team up with Gabi to take on Stefan, and Stefan declares his romantic interest in Chloe. Jack announces that he's running for mayor, which upsets Jennifer. She accuses him of using Haley as a means to further his political ambitions. Diana decides how to eliminate Marlena, and Claire betrays Tripp and Haley.
General Hospital
Jason is concerned and Laura finds hope. Liz is left waiting. Jason tracks down Julian, and Kevin asks for a hand. Curtis deals with some heartbreaking news. Jason frantically searches for Carly. Ava is shocked, and Lulu revisits her memories. Kevin has a plan. Jason is too late. Alexis is put through the wringer by Julian. Ava falls hard for Ryan, and Liz knows she has some serious obstacles to surmount.
The Young and the Restless
Michael does everything he can to get Mariah to identify Tessa as the blackmailer in court, and Sharon has to plead with Brittany to make him stop. Brittany's interference helps Mariah keep her real reason for concealing the video a secret. Phyllis promises Nick she'll protect his family, but he's skeptical. In an attempt to cheer Phyllis up, Summer suggests that she reconcile with Nick, but Nick is not interested. Kerry worries about Phyllis's ability to deal with the trial and Jabot at the same time, but Phyllis reassures her and reestablishes her loyalty with promises. Nate stuns Summer when he calls to tell her she's a potential match for Lola. Summer uses this new information as leverage. Michael pleads with Nikki and Victoria for honesty, and they come clean. Michael refuses to put them on the stand, though, and instead tries to make a deal with Christine. Michael wants Brittany on board with his strategy, but she learns of Sharon and Ray's romantic ties, and decides on a different course of action.