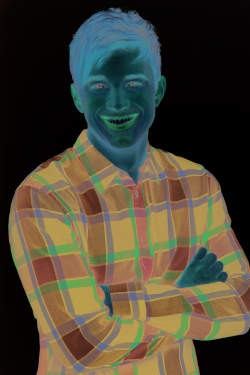 Chandler Massey stars in "Days of Our Lives"
The Bold and the Beautiful
Following her sudden fall, Steffy goes into labor despite it being too early. When her daughter's heart rate begins to plummet, Dr. Phillips insists that the baby must be born immediately, and with the doctor's help Steffy gives birth to a beautiful baby girl. She and Liam bond over their new child, and Ridge feels overwhelmed when he finally gets to meet his granddaughter. Liam thinks long and hard about the advice that Ridge gave him about sticking with Steffy and his new child. When Liam learns that Bill was the reason for Steffy's fall he becomes furious. Now a father, Liam goes to Hope and has a heart-to-heart with her about their future. While they discuss Bill's manipulation, Quinn tries to persuade Wyatt that he isn't to blame for his father's actions. Brooke is livid that Wyatt didn't speak up sooner, but Quinn defends him and Ridge later comforts Brooke, who is devastated by the news that she's received. Steffy brings her newborn baby home where Liam delivers big news, and Ridge speculates with his brother about whether Steffy and Liam can actually have a future with each other.
Days of Our Lives
After Ciara is given some advice from Kayla about Tripp, she discovers him in a compromising and passionate position with Claire. JJ learns from Hope about Ben's impending release, and makes Theresa a surprising offer. As they continue their investigation, Sonny and Justin meet with Leo and his shady lawyer who presents them with damning evidence. Theresa does whatever it takes to fight for Brady, who rips into Victor for pressuring Theresa to keep her silence about Chloe's location. Kayla agrees to the deal presented to her by Stefan, and Ciara's life hangs on a knife's edge. Ben arrives at Will's home looking to make amends for past misdeeds, and Marlena is chastised by Hope for not preventing Ben's release.
General Hospital
Finn shows impeccable timing, and later shows how supportive he can be. Maxie finds herself moved to tears while elsewhere Drew makes some new arrangements. Jason has doubts about his situation, and is later put on the spot while Sam asks for some help. Valentin stays true to his word. Carly is cautioned by Sonny, and Anna decides to come clean. Ava shares what she witnessed, Monica is confronted by Alexis and Nelle finds herself thrilled.
The Young and the Restless
Lily catches Shauna asleep in Charlie's bed, and immediately leaps to conclusions about what's happened between Shauna and her son, landing the two in hot water. When he learns that Hilary is looking to buy Chelsea's old penthouse, Neil is worried that she's trying to manipulate her way back into Devon's life. Jack keeps up the search for his father's identity, despite feeling constantly defeated, but when a lucid Dina shares some information about past affairs he finds himself rewarded with a lead that may reward him with the truth about his parentage. Nikki is furious to see Abby with Arturo, and tells Abby about the romantic past that she and Arturo share. Abby is angry that Arturo lied to her. Nick and Sharon prepare to leave Genoa City for San Diego, and Nikki is furious when she finds out. She assumes that the move was Sharon's idea, but when she confronts her Sharon sets the record straight and tells Nikki to ask Victor the reason behind Nick wanting to leave town.