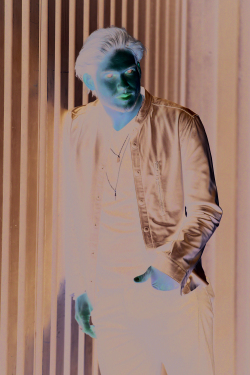 Tyler Johnson stars in "The Young and the Restless"
The Bold and the Beautiful
Thomas calls Flo a liar after she shares some secret information with her. Hope and Brooke disagree about Hope's decision to annul her marriage to Liam. Zoe questions Xander's level of devotion because he seems to be willing to sacrifice Reese for the truth. Thomas quickly becomes angry after he realizes that Steffy unwittingly has Hope's baby. Liam feels fully bonded to Kelly and Phoebe and he accepts Steffy's offer to move back into the cliff house. Flo pleads with Zoe to reveal their secret, but Zoe worries about going to jail. Thomas struggles with conflicting feelings as to if he should reveal that Hope's baby is alive and to whom. Wyatt demands answers after he overhears Flo, Zoe and Xander talking about Beth. Ridge is afraid that his marriage to Brooke will suffer because of their children's turmoils. Xander, Zoe and Flo are shocked when Thomas suddenly changes his mind and makes threats against them.
Days of Our Lives
Ben finds the cabin on fire when he rushes to Smith Island. Tripp and Haley find themselves trapped in a dangerous situation. In order to save Will's life, Sonny insists that Eve surrender Rolf's diary. Lani comes to a realization about her relationship with baby David. Sonny and Will have exciting news to share with Gabi. JJ quickly goes to the hospital when he learns Haley was rescued from the fire. Ben is at the wrong place at the wrong time. Ciara and Ben concoct a plan against Claire. Jennifer has a heated confrontation with Eve. Maggie confesses to Victor that she fell off the wagon. Chloe and Rex begin to grow closer. Stefan makes a surprising offer to Abe. "Nicole" persuades Stefan to give her a job at DiMera. Xander tries to impress Sarah by saving the day. Ted gets an idea about how to make himself look like a hero to Hope. Kate and Marlena give one another comfort about Will. Ted reveals a stunning secret to "Nicole." Sarah, Brady and Maggie have questions for Xander about Rolf's diary. Kate and Hope argue about Ted. Haley shares an emotional goodbye with JJ as she prepares to be deported to China.
General Hospital
Shiloh exudes charm. Chase makes sure to stay on the right side of the law. Carly meets with Lucas. Sonny takes things into his own hands. Shiloh toys with Sam. Chase is shocked when he discovers that Harmony is Willow's mother. Jordan confronts Curtis. Drew looks after Kim. Harmony hopes that Shiloh will rescue her. Julian tells Brad to remain clam. Nelle receives a surprise visit.
The Young and the Restless
Phyllis and Sharon get into a heated argument about their past. Sharon later vents to Rey about her distrust of Phyllis, while Rey becomes frustrated with Sharon constantly defending Adam. Sharon is forced to admit Adam's returned to his darker ways when Nick arrives and breaks the news about Adam's latest plot. Adam apologizes to Sharon for his actions and Rey soon catches them in an embrace. Angry, Rey storms out on them. Kyle decides to ask Rey for his blessing regarding his engagement to Lola. Lola is nervous about it, but Kyle wins her over. Jack and Traci help Dina adjust to her new life in the nursing home. Jack spends more time with her, while Traci shares her new novel. Dina is comforted by their efforts. Devon grows closer with Elena. When Elena offers to find a place of her own, Devon asks her to stay. Wanting to make a big gesture, Devon decides to pay off Elena's student loans. Christine becomes angry when Victor takes up a lawsuit against the GCPD.