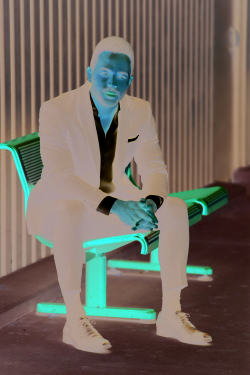 Sean Dominic as seen in "General Hospital"
The Bold and the Beautiful
Liam makes a vow to keep Hope from marrying Thomas. Xander is overheard when he talks about murder, and ultimately finds the evidence he's been looking for. Ridge and Brooke don't see eye to eye when it comes to Thomas and his intentions towards Hope. Thomas pressures Hope into an engagement. Xander tells Zoe that he's sure Thomas is responsible for Emma's death. Ridge reminds Thomas that Caroline will always be Douglas's mother. Thomas is stunned when he goes to visit Liam and Steffy tells him that Liam has gone to visit Hope. Brooke tells Katie and Donna about Hope's engagement. Thomas is with Steffy when he gets a frantic call from Zoe. Liam tells Hope why she shouldn't marry Thomas. Putting himself in harm's way, Xander confronts Thomas about Emma. Brooke tells Hope how she really feels about Thomas, and Xander issues a crushing ultimatum. Sally sees Wyatt kiss Flo, and sends Flo out for some errands in order to get some one-on-one time with Wyatt. Thomas and Hope tell Douglas about their big news. Thomas manipulates Douglas and Hope in order to get Hope to marry him right away.
Days of Our Lives
Someone is surprised by the contents of a secret room. Hope peppers Xander with questions about Ted's disappearance. Rex confesses something to Sarah. Brady tells Chloe about Gabi's plan to take down Stefan. Ciara and Marlena go after Eve for the way she's treated Claire. Claire says goodbye to Salem, and Tripp connects with Haley. Belle and Shawn turn to each other for comfort when they worry about their daughter's situation. Ted confesses to Kate. Hope and Eli begin to put things together, and Kristen confronts Xander. Ciara and Ben try to work through what happened with Claire.Stefan is attacked, and Hope gets angry with Eve. Xander reconsiders his plans. Gabi and Stefan are caught making out in Julie's office. Kristen reveals herself to Ted and Kate.
General Hospital
Kim is glad to have something to look forward to. Bonnie sakes things up, and Obrecht turns to Franco. Jax gets a happy surprise, and Drew decides to forgive. Ava is devastated. Kim is apologetic, and Sasha makes a choice. Alexis helps Olivia. Oscar's will reading involves some surprises. Willow begins down the path of healing. Sam helps calm Lucas down. Laura tries to convince Lulu to go after her husband. Maxie is determined to confront Dante.
The Young and the Restless
Billy tries to find Victoria, who has totally forgotten about his birthday. She explains that she's been distracted by her plans to bring Dark Horse down for good. Billy is impressed with her determination to sabotage Adam and Phyllis, and they head off to the street fair together. Phyllis runs into Paul, and he asks her about her disappearance, but she avoids giving him an answer. Phyllis tries to warn Adam that Chelsea is a con artist, but he refuses to believe it. Elena starts an EMT job, but the loss of her first patient leaves her shaken. Devon gets frustrated with Ana. Lola and Kyla have a hard time adjusting to Celeste being in town. Lola snaps after Celeste pushes her too far. Devon insists that Ana needs some extra help if she's going to run LP successfully, and asks Theo to be her mentor.