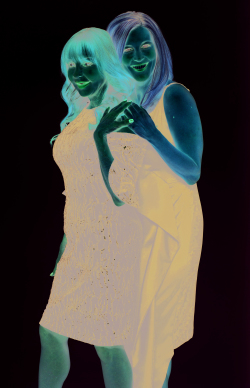 Jacklyn Zeman and Laura Wright star in "General Hospital"
The Bold and the Beautiful
Liam tells Hope that he has to sort out his feelings to prevent her and Steffy from getting hurt. Emma remains skeptical when Xander reveals more about his past and the real reason he came to Los Angeles. Zoe runs into Emma and invites her to lunch. Sally and Xander figure out that Zoe is the girl who's been working at Wyatt's beach house. Sally calls Wyatt and tells him that Zoe is trouble. Zoe gets forceful with Emma when she tries to leave. Xander, Sally, Thorne and Emma expose Zoe and demand answers. Thorne tells her Emma can put Zoe in jail. Xander tells Zoe she is not his girlfriend. Brooke tries to convince Liam that he should choose Hope over Steffy. Brooke and Hope share a warm moment. Xander tells Zoe she must return to London. Katie is shocked to hear that Hope is pregnant. Emma prepares to dance in the fashion show. Zoe arrives at the show in disguise, while Liam arrives to support Hope. Justin is conflicted about Bill's recent request. Bill speaks ill of Liam to Steffy, but she defends her man. Bill sets Steffy up for another fall in order to win her love. Zoe finds a way to outshine Emma.
Days of Our Lives
JJ takes the blame to help Theresa. Abigail tells Gabi who the father of her baby is. Theresa and Brady each make a last plea to win custody of Tate. Kayla and Steve await a meeting about Steve's new eye, but a run in with Stefan could derail things. Brady must say goodbye to his son. JJ suffers the consequences of helping Theresa. Abigail struggles with whether to tell Chad about her pregnancy. Gabi confronts Stefan and reveals her resentment about Gabby. Eve admits to Chloe that she's partly responsible for Brady losing custody of Tate. Jennifer seeks to find out how the drugs ended up in JJ's apartment. Victor strikes back at Theresa. Claire asks Ciara if she's moving in with Ben. Theresa receives crushing news, which forces her to leave Salem. Brady says goodbye to Tate before he leaves with Theresa. Hope and Rafe try to get Ben to admit he set the fire. Abigail considers ending her pregnancy. Gabi reveals Abigail's secret by mistake. Will gets a shocking note. Eli supports Lani as they deal with baby David's death.
General Hospital
Michael struggles with conflicting feelings. Sonny lets his frustrations be known. Maxie feels that something is wrong. Obrecht is consumed with emotion. Liz gets an explanation from Curtis. Valentin buys some more time. Julian surprises Sonny with a visit. Sonny finds himself in over his head. Carly experiences the consequences of her actions. Nina dodges accusations. Diane is the bearer of some bad news.
The Young and the Restless
Jill returns to town, furious about how Jack and Kyle have disrespected Phillip's grave. Jack talks her down, but the peace is short-lived when a messenger shows up with the DNA results from the stolen bone fragment. Kyle tries to set Mariah and Tessa up on a date. They head to the GCAC where they see Hilary having a secret meeting with a mystery man. Phyllis gets an update from her PI that Billy has gone into a room at the GCAC, leading her to believe that he's having an affair. She follows him into the room only to discover he's gambling, as opposed to cheating on her. Victor tells Victoria about getting a message from J.T.. Victor shares his plans to meet with J.T.. Victoria panics and tells Nikki about Victor's plan and they wait for his return anxiously. Tensions continue to linger between Hilary and the Winters clan, especially Lily, despite her relationship with Devon. Things come to a head when Lily catches Shauna and Charlie alone together.