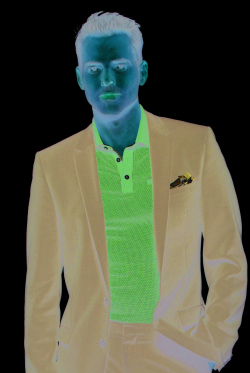 Jason Thompson from "The Young and the Restless"
The Bold and the Beautiful
Brooke makes Eric pick a side -- it's her or Quinn. Sally refuses to accept the news about Wyatt's reconciliation with Flo, and vows to make it difficult for him to walk away from her. Flo tries to make things right with Bill. Brooke tells Katie about her current situation. Eric warns Quinn about the consequences of meddling with other people's relationships. Quinn tells Wyatt that Brooke is causing trouble, but assures him that she has a plan. Steffy, Kelly and Liam come home from a day at the beach. Sally heads to Flo's apartment to set things straight. Thomas thanks Hope for sticking with his son. Bill gives Liam some fatherly advice. Thomas tries to keep Steffy from telling Liam about the kiss they shared. Eric breaks the bad news about Shauna to Quinn. Brooke tries to get Hope to see that Thomas is getting between her and Liam. Thomas keeps using Zoe as a cover. Steffy starts to work about Sally, and Sally tells Steffy that she and Wyatt are having a rough time. Brooke gets some good news. Quinn tells Ridge that he would be happier with Shauna, and asks for his help with Eric. Quinn's argument with Brooke gives her an idea. Katie gives Wyatt relationship advice. Ridge tells Steffy about the kisses he shared with Shauna and the trouble between Brooke and Quinn. Quinn says she'll take Brooke down if she continues to meddle in her marriage.
Days of Our Lives
Sonny and Justin revisit the events of last Mother's Day, which included Sonny surprising Will, Sarah going into labor and Brady causing trouble by bringing Kristen to his parents'. Also, Tragedy struck Sarah and Adrienne, Tony learned of Anna's betrayal, Maggie receives an unwelcome visitor and Xander admitted something to Victor. As Mother's Day continued, Kristen prepared to give birth, Will found Adrienne and Sarah, Xander helped Sarah and Kayla gave Josh some heartbreaking news. Also, Will confided in JJ, Kristen's world was shattered, and Justin told Sonny that Adrienne had died.
General Hospital
Jax wonders how much longer things can continue, and what will be the last straw. Michael and Sasha make a change. Tracy and Ned have a disagreement. Carly worries and Finn is upset. Anna feels the need to protect her own. Jason dishes out a serious warning. Curtis has some suspicions and Sonny takes on an enemy. Nelle is unhappy, and Nina is disgusted. Martin receives a call. Sonny is concerned about Mike, and Carly hunts for the truth. Anna feels overwhelmed.
The Young and the Restless
Victoria shows Nikki the bar receipt she found. Victoria hates that Billy lied, but as a former addict, Nikki relates to him, and gives him the benefit of the doubt. Later, Billy is confronted by Victoria, and he swears he has been faithful, but admits that he's finding it hard to live up to her expectations. Victoria is heartbroken when Billy admits that he's been confiding in Amanda. Victor invites Chelsea and Adam to the ranch for dinner. Chelsea talks about Connor's bravery. Victor undermines her, and shares how proud he is of Adam. Nikki reminds Victor that the happiness of Adam and Chelsea came at Nick's expense. Adam announces that he wants to revive Dark Horse in order to secure Connor's future. Jabot hosts a party for the marketing department. Lola is the caterer, and Summer picks apart every detail of the event. Kyle senses the chemistry between Lola and Theo, and Jack introduces Jill to Theo. Elena says she wants to pick Nick's brain at the coffeehouse, and asks him about the possibility of a mobile medical unit. When Amanda joins them, Elena's guard is up, but she remains cordial. When Nate explains that he'd never pursue someone who was already in a relationship, Amanda thinks of Billy and feels guilty.