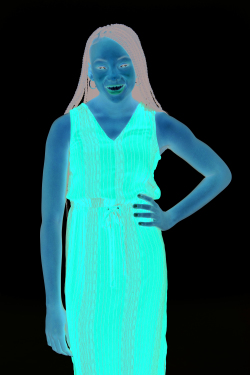 Sydney Mikayla from "General Hospital"
The Bold and the Beautiful
Hope is devastated, and tells Brooke about what she witnessed between Liam and Steffy. When Liam and Steffy have a frank discussion about their encounter, Steffy tries to tell Liam that Thomas is pulling strings in an attempt to get what he wants. While talking to Brooke, Hope says that Douglas is her hero. After seeing some of Sally's designs, Steffy and Ridge worry about the upcoming fashion showdown. After being confronted by Ridge, Sally panics about the prospect of being fired. Shauna encourages Flo to go after what she wants, and what she wants is Wyatt, even though he's engaged to Sally. Brooke blames Thomas for what's happening between Liam, Steffy and Hope, but Ridge refuses to hear it. Ridge finally tells Brooke about the kiss he shared with Shauna. Wyatt makes sure Flo knows that he and his family think she did something amazing when she donated her kidney to Katie. Quinn listens in on a private conversation between Brooke and Eric. Brooke is distraught, and tells Eric he must make major changes regarding his wife and house guests. Shauna lets Ridge know she'll always be there for him. Katie reaches out to her family in the hopes of forgiveness. Quinn angrily tells Shauna that Brooke is trying to destroy them, and Brooke and Quinn declare war on one another. Eric can't stay out of the conflict between Quinn and Brooke. As Wyatt and Flow reconcile, Sally decides to put her boyfriend before her career, and asks Wyatt to come over to talk. Brooke demands that Eric take action.
Days of Our Lives
Clyde and Ben discuss the idea of breaking out of prison. Hattie makes waves that affect Kate. Kristen discovers someone's true identity. Ciara is shocked when she finds out about Xander and Victor's secret. Abigail is surprised when she walks in on Kristen. Chat is increasingly suspicious of Kate. Eli proposes to Gabi, and Lani tells JJ about what Gabi did. Gina and Stefano make plans to break up Marlena and John. Abe is surprised when Eli tells him about Lani. JJ has ulterior motives when he visits Gabi. Julie makes some bold suggestions to Kayla. John is convinced to leave town and hunt down Stefano. JJ tries to get access to Gabi's pacemaker app in order to disable it. Lani turns to Kristen for help, and Kayla and Rafe discuss Hope. Xander demands information about Ciara's plans. Sonny visits Will in prison so they can sign the divorce papers. Eric and Sarah get even more bad news about Mickey. Kristen tries to talk to Brady about the death of their baby.
General Hospital
Jason is suspicious. Maxie and Spinelli reunite. Alexis finds out the rest of the story. Tracy reminds Ned what should be most important to him. Laura interrupts. Chase is called in to break up a fight. Tracy makes an effort to leave animosity behind and bury the hatchet with Olivia. Lulu wants to find out more. Sonny makes plans for a road trip. Tracy thinks Michael is to blame. Brad gets a visit from Julian. Gladys supports Sonny's decision. Brad gets a wake-up call. Chase tries to fill Jordan in on the Corinthos case.
The Young and the Restless
Billy surprises Victoria when he admits that he is no longer going to therapy. When Victoria tells him he cannot solve his problems on his own, Billy feels judged. Though the two of them manage to come to an understanding, Billy still feels restless. Chase lets Devon know that his team is on Colin's trail in South America. Elena is hopeful that this will uncover the truth about whether Amanda participated in Colin's scam. Devon runs into Amanda and admits that her being in town has become a huge distraction for him, but she refuses to go into hiding. He asks her for information about Colin, but is shut down. Lily arrives in town and meets with Jill, who tells her she should visit Cane in Europe. Lily says she needs a fresh start. She visits Devon and asks him what his plan is if he finds out Cane is guilty. Devon insists that he will show no mercy.