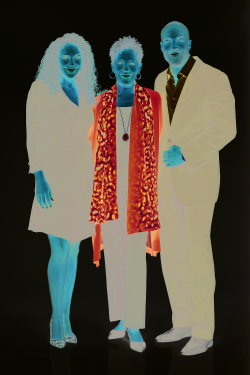 Briana Henry, Vernee Watson and Donnell Turner star in "General Hospital"
The Bold and the Beautiful
Steffy and Liam come to realize the extent of Hope's situation when she pushes them to reunite as a family. Wyatt becomes very happy after negotiating the revival of Spectra Fashions with Bill. Sally and Wyatt share a tender moment as they discuss how to negotiate with Bill. Consumed with guilt, Hope makes a huge gesture that leaves Steffy and Liam reeling. Katie is moved when Bill reaffirms that he is dedicated to putting his family first. Eric and Quinn react to news from Sally and Wyatt that they will be working at Spencer Publications. Zoe confronts Flo when she sees her working at the Bikini Bar instead of having returned to Las Vegas like she was supposed to. Bill throws a curve-ball at Sally and Wyatt when it comes to Spectra Fashions. Flo is affected when she overhears a conversation between Hope and Katie. Liam seeks out Wyatt's advice about Hope, Steffy, Kelly and Phoebe.
Days of Our Lives
Tensions are on the rise as Jennifer moderates the first mayoral debate between Abe and Melinda. Jack drops a bombshell. The truth about who set the fire at the cabin last year finally comes to light. Hope apologizes to Ben for misjudging him. Haley feels betrayed by JJ, and she confronts him. Jennifer tears into Jack and Eve for using Haley as a political pawn. Gabi seeks out Brady's help. Stefan and Chloe grow closer. Marlena is thrown for a loop when John defends Leo. Diana and Victor form an alliance. Sarah has an intimate dream about Eric. Eric discusses his feelings for Sarah with Marlena. Sarah has a shocking reaction to Rex's proposal. Rex places Eric in an awkward position. Victor has something to tell Marlena. Chloe interrupts a heated exchange between Gabi and Stefan. Eve and Jack take advantage of Melinda's scandal. Eli and Lani have questions for JJ about Haley. Ben is worried he will hurt Ciara, so he breaks up with her. Tripp finds something surprising in Ciara's jewelry box, and he confronts her about it.
General Hospital
Curtis keeps watch. Finn does his best to explain things. Carly confides in Jason. Lulu gets ready to face Franco. A secret message is sent to Drew. Ava wants to share the news she has. Ryan becomes angry. Liz is worried about Drew. Maxie helps Lulu. Liz scrambles. Max and Felicia come up with a theory. Anna and Peter have a confrontation. Ava turns to Julian for advice. Lucy has some questions. Kevin searches for a way out.
The Young and the Restless
An angry Summer confronts Kyle about Rey's interrogation, but Kyle insists that he simply defended her to the police. Summer is moved and she tells Kyle she'll support him through this hard time because she loves him. Kyle dismisses her, saying he only loves Lola. Kyle tries to see Lola, but Arturo is adamant about keeping him away. The case follows Phyllis to Jabot, where Billy confronts her publicly about rolling on Victoria. Phyllis defends herself and says the trial won't impact the company. Kerry offers to help Jack deal with the stress of the trial and Lola's illness. Jack soon realizes that he and Kerry have reached a turning point in their relationship. As the trial begins, Christine calls Mariah to the stand as her first witness. She asks her about the night of the murder and the incriminating video found on the Dark Horse servers. Mariah struggles to answer without implicating Sharon or Tessa. She manages to keep their involvement hidden during Christine's questioning, but when Michael takes over, he asks her to reveal who really found the video.