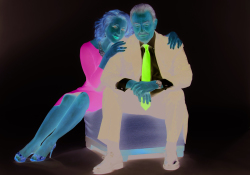 Melody Thomas Scott and Eric Braeden star in "The Young and the Restless"
The Bold and the Beautiful
Zoe tells Reese that Hope must be told the truth about her baby. Wyatt lets Bill know that Thorne annulled his marriage to Katie and left town. Zoe grabs Xander and heads for Steffy's house intent on revealing the truth. Bill offers Wyatt his job back at Spencer Publications. Wyatt tells Sally about the offer, which makes her uncomfortable. However, Sally doesn't want to stand in the way of Bill and Wyatt's relationship. Sally is shocked when Wyatt suggests that he have Bill revive Spectra Fashions. Will and Katie are moved by Bill's expression of love. Bill then makes the future clear to Katie and Will, and Justin and Donna spend more time together as they work to reunite the couple. Hope tries to convince Liam and Brooke that Liam belongs with Kelly and Phoebe. Bill is surprised by Wyatt's request to bring back Spectra Fashions.
Days of Our Lives
Ciara fights Jordan in order to save Ben's life. Abigail and Chad grow closer when Charlotte is rescued. Rafe tells Ted to stay away from Hope. Sarah starts to have doubts about Rex, so Eric tries to help her. Chad proposes to Abigail. Diana toys with John and Marlena. Leo fires back at Will and Sonny. Eli and Lani exchange gifts and become closer. Chad and Abigail come to a life-altering decision. JJ asks Jack not to tell anyone about Haley's immigration status. Eli calls Sonny and Will to the police station for questioning. Marlena has harsh words for Leo for lying about Will and Sonny. Abigail and Chad get married in front of family and friends before leaving Salem. Stefan is enraged as he realizes he's lost Gabby for good. Eve overhears Melinda and Haley talk about their secret. Rafe gets Jordan to open up about her trauma. The person who set the cabin on fire and nearly killed Ciara is finally identified. Ben admits to Ciara that he may not have been able to stop himself from killing Jordan. Claire becomes jealous when Tripp spends time with Haley.
General Hospital
Franco feels reluctant. Charlotte makes Spencer feel guilty about the election tampering. Nina makes a big announcement. Sam is intrigued. Margaux says a little too much. Carly finds the proof she needs. Ryan makes a move. Lulu receives a call. Julian has questions about Ava's loyalty. Cameron is angry. Franco wants to share his side of the story. Carly and Ava have a confrontation. Ryan threatens Kevin. Terry helps Elizabeth.
The Young and the Restless
Abby confronts Mia in the middle of the GCAC about her interference in her relationship with Arturo. The situation escalates into a full-on fight. Abby uses her status to have Mia thrown out of the club. Lola soon arrives, followed by an apologetic Kyle. Arturo prevents Kyle from talking to Lola. Once Kyle leaves, Abby encourages Lola to fight for her relationship. Lola borrows Abby's coat to go for a walk outside to clear her mind. After a conversation with Mariah and Tessa, Lola resolves to find Kyle and make things right. Meanwhile, Devon tries to convince Ana to sing again. They are interrupted, however, by news of Lola's fall and they decide to visit her. Ana worries about Devon going to the same hospital where Hilary died. Devon insists on going to the hospital, but he becomes overwhelmed and suffers a panic attack. He manages to overcome his panic attack with some help from Ana and Nate. Devon then visits a weakened Lola and begs her to come back to them.