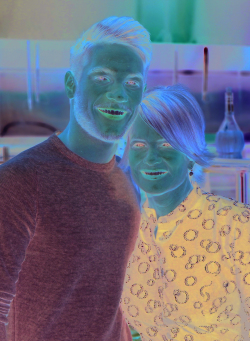 Lucas Adams and Mary Beth Evans star in "Days of Our Lives"
The Bold and the Beautiful
Zoe apologizes to Flo before demanding more answers about her connection to Reese. Though Steffy feels for Hope, she worries that Hope is getting too attached to Phoebe. Flo thinks that Zoe is on to her lie, so she tries frantically to get in touch with Reese. Liam must defend Hope to Steffy when the latter expresses concern over Hope's attachment to Phoebe. Zoe's threat to call the police on Steffy causes Flo to break down. As Katie prepares for Valentine's Day, Thorne makes an admission about their marriage. With Liam at her side, Hope does all she can to remember the details of the night Beth died. Zoe is shocked by what Flo tells her, so she calls her father and demands an explanation. Katie tells a stunned Wyatt what Thorne got her for Valentine's Day. Bill talks to Justin about ways he can get his family back.
Days of Our Lives
Jordan insists that Ben check himself back into Bayview. Kate has a run-in with Jordan. Chad and Abigail plead for Charlotte's safe return. Eve wants Jack to use Haley's secret to his advantage. Jordan keeps Kate quiet when she gets too close to the truth. Ben hides evidence from Hope and Eli. Gabi clashes with Stefan over business. Brady is upset to learn that Chloe and the kids are moving in with Stefan. John confronts Diana regarding his suspicions about Leo's paternity. Leo pressures Sonny to sleep with him. Rafe discovers Kate in a state. Ben realizes he's being set up and takes drastic measures. Ciara is left for dead at the cabin. Ben insists to Chad that he's innocent, and that he needs help to rescue Ciara and Charlotte. Rafe keeps watch at Kate's bedside. Will and Sonny spend a romantic Valentine's Day together, having thwarted Leo. Abigail forgives Chad at last. Ciara reunites with Ben. Ted kisses Hope. Rex runs into a distraught Jordan.
General Hospital
Carly has words with Sam. Drew and Shiloh meet up. Ava arrives just in time. Laura visits Franco. Cameron gets into some trouble. Peter and Maxie run into Nina. Kristina struggles with her jealousy. Finn works with Robert. Michael hears from Nelle. Sam spends Valentine's Day with another man. Jason and Spinelli get a tip. Ned and Olivia celebrate. Laura is curious. Jordan has an out to offer Franco. Carly and Sonny take another look at their future.
The Young and the Restless
Rey has enough evidence to charge Victor, and everyone prepares for the upcoming trial. Nikki, Victoria, Phyllis and Sharon all become more nervous as the trial draws nearer. Abby has a plan to distract the press from the trial with a more positive Newman story. Arturo agrees to pose for a magazine photo shoot since the photos will be printed alongside a story about his and Abby's engagement. Fen apologizes to Ana, but she tells him Devon is already considering dropping him from the label. Summer takes the blame for Fen's absence and convinces Devon and Ana to give him another chance. Kyle and Lola drift apart. Jack intervenes by planning a romantic Valentine's Day getaway, and insists that Kyle can still win Lola's heart back. Lola does not accept the offer, and she tells Kyle he doesn't understand her at all. Kyle then goes to the cabin alone, and Summer follows. He tries to send her away, but she says she's only there to support him as a friend. Nick and Phyllis look back on memories of their long and storied relationship. Nick then gives her the sign from the bar where they celebrated their wedding.