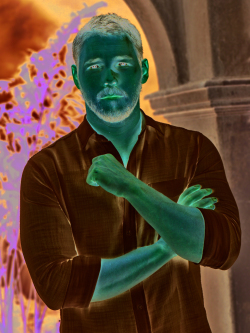 Scott Clifton from "The Bold and the Beautiful"
The Bold and the Beautiful
Ridge asks Brooke if she would like to join the Forresters' Christmas celebrations. Thomas wakes up next to Zoe after a long night of love-making, and then invites her to Christmas dinner. He tells Hope that he and Zoe had a wonderful night out with one another. Ridge confesses to Brooke that he hasn't actually filed their divorce papers yet. Steffy asks Liam how he feels about Hope working with Thomas. Thomas tells Hope he has a surprise for her, and she is stunned when he sees it. Brooke and Ridge can't help arguing about Thomas. Bill pays Beth and Hope a visit, and shares his concerns about Hope working closely with Thomas. Zoe shares her own thoughts about Thomas and Hope with Steffy and Liam. Thomas turns up unexpectedly to check in on Shauna, and he reveals that his goal is to get Hope back in the end. Thomas urges Shauna to pursue Ridge, and points out some reasons why she won't share their conversation with anyone. Later, Liam is provoked when Thomas asks why he hasn't proposed to Hope yet. Thomas then tells Liam to get used to having him in his life, because he isn't going anywhere any time soon. Steffy goes out on a date with a new man. Thomas's suspicions are raised when he walks in on Steffy and Zoe while they talk privately. Liam tells Steffy and Hope about Thomas's threats.
Days of Our Lives
Marlena and "Hope" have a confrontation about John. Kate threatens to expose Stefano and his secrets. Gabi finds out that someone has vandalized Gabi Chic. Kristen is angry when she witnesses Nicole and Brady share a passionate moment. Julie and Doug throw a New Year's Eve party that is crashed by an unexpected couple. Kyla, Justin, John and Marlena exchange their theories about who the mystery Santa Claus could have been. Kristen is tormented by thoughts of Brady and Nicole together. Eli is surprised by new information about the person who threw a rock through the Gabi Chic window. Marlena, John, Kayla and Justin are shocked by Steve's return. Kristen lets Brady know that she wants him back. Nicole is attacked by Kristen. Gabi is surprised to learn that Lani is back in town. Ben gets support from Ciara on the day of his final appeal. Victor and Xander find out that Ciara has been playing them. Kayla confronts Steve. Rafe feels Gina's wrath.
General Hospital
Jason has good reason to question Sonny's motives. Carly and Jack meet together. Willow feels bad and acts accordingly. Carly feels strongly about her position, and Sonny feels betrayed by someone he trusted. Laura works on Charlotte, trying to persuade her. Jax doesn't know what to do next. Diane confirms that the worst has come to pass. Jason accepts his fate.
The Young and the Restless
Chance lets Devon and Jill know that he has quit his job as a federal agent and plans to move back to Genoa City and open his own private investigation and security firm. Jill peppers him with questions about his budding relationship with Abby, but Chance doesn't give much away. Jill comforts Devon as he recalls past holidays with Neil, promising him she'll do whatever it takes to get him his inheritance back. Abby asks Chance to come to her New Year's Eve party, and he thinks she's asking him to work security. Abby clarifies that she's asking him to be her date, and he accepts. Adam is surprised to find out that Nikki and Victor arranged to have Connor readmitted to Walnut Grove. Jack pats Phyllis on the back for showing such restraint regarding Adam. Phyllis is trying not to let revenge consume her, and she promises to take Jack's advice. Billy lets Victoria know that she'll have to celebrate New Year's without him, and she wishes they could be together for their anniversary. She reminds Billy that she would be glad to save him again, and hopes he hasn't relapsed. Billy asks Amanda if she has time to talk.