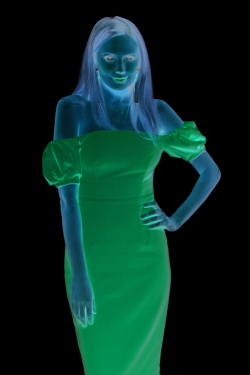 Melissa Ordway as seen in "The Young and the Restless"
The Bold and the Beautiful
After being badly manipulating and finding herself out of options, Hope relents and agrees to let Thomas design her fashion line. Brooke is upset, and confronts Liam about not including her in the scheme to prove that Thomas is up to something. Sally can't wait to compete against her ex, and hopes to come out on top when she and Thomas design separate lines for the fashion show. Hope agrees to watch Douglas while Thomas and Zoe go on a romantic date, and she tries to figure out what his ulterior motive is. Zoe gets caught up in the moment while out on her date with Thomas, and is swept away by the romance. Hope tells Liam about the big date, and Liam worries that Zoe will struggle to maintain her perspective. Thomas continues to scheme in an effort to win Hope back. He ups the ante and takes his relationship with Zoe to the next level. Brooke and Ridge reminisce about the good old days. Though they still love each other, circumstances make their continued relationship impossible, and they remember the loving moments of the past fondly.
Days of Our Lives
The fake Stefano is tempted to reveal himself to Marlena. Justin and Kayla make plans to spend Christmas together, and to make it as romantic as possible. Rafe wonders why Kate was fighting with "Hope." JJ lets his guard down and tells Jack and Jennifer about his addiction problems. As Christmas Eve arrives in Salem, Julie prepares for her Horton tree trimming, and worries that no one will show up to the party. Hattie and Eve both receive early Christmas presents. Xander has a big Christmas surprise for Sarah. The Christmas party at the hospital is in full swing when "Stefano" secretly crashes it. Marlena helps Ciara sneak in to visit Ben without Victor finding out. When Kate sees Sonny with Evan, she gets upset. John gets an unwelcome surprise at home. Kayla trails "Stefano" and confronts him. When Marlena looks in her purse, she's surprised to find a mysterious gift. Hattie turns to Roman for a favor. Xander gives Sarah her special present. Hattie is shocked to walk in on "Steve" in Kate's room. Lani and Kristen are back in Salem, and Lani makes an indirect strike at Gabi. Nicole impulsively kisses Brady.
General Hospital
There's a major Dickensian twist this year, and the people of Port Charles are reminded of the true meaning of the season. Joss struggles to understand, and Danny pays Santa a visit. Nelle refuses to back down. Jason is skeptical about Sonny's motives, and Carly meets up with Jax. Nina is put on notice.
The Young and the Restless
Sharon is surprised when Faith arrives home earlier than expected. Summer gives her a warm welcome and peppers her with questions about school and boys. Sharron worries that Connor may soon need her help. Ray wonders why Sharon is helping -- is it for Connor's sake, or for Adam's? Chance make sure Adam knows he's staying in Genoa City, and Adam just wants to leave their Vegas days in the past. Phyllis interrupts them to warn Chance that Adam will stab him in the back. Adam wants to take Connor to the farm where he spent his childhood, and he wants Chelsea to come. Adam knows Nick doesn't want him around. Knowing the farm will rekindle some old feelings, he confesses his love for Chelsea. She feels connected to Adam, but loves Nick. Billy and Victoria prepare to celebrate their anniversary, but Billy is forced to stay in town for work. He tells Victoria to travel without him, and he'll catch up and make it up to her. Ashley returns home to a surprise, and Jack hosts a Christmas Eve dinner. Lauren receives the ultimate Christmas gift. When an unexpected guest arrives, Victor and Nikki remember the true meaning of Christmas.