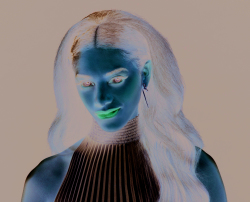 Kiara Barnes stars in "The Bold and the Beautiful"
The Bold and the Beautiful
Brooke surprises Hope by having Bridget visit for her wedding. Brooke, Donna, Katie and Bridget help Hope get ready for her special day. Taylor explains to Steffy why she shouldn't go to the wedding. Wyatt is surprised to hear from Liam that Steffy will be in attendance. At the last minute, Taylor makes an attempt to talk to Liam about Steffy. Hope makes a beautiful entrance as her wedding to Liam begins. Meanwhile, Bill laments to Justin that it still stings not to be with his son on his wedding day, even though he didn't expect to be invited. Brooke shoots Taylor a look during the wedding as Carter asks anyone if they have a reason for Liam and Hope not to marry. Taylor tries to make a speech at the reception, but Brooke intervenes. Taylor aims accusations and throws wedding cake at Brooke in the kitchen. Liam surprises Hope with a honeymoon staycation. Justin tells Bill that a business partner wants to meet. When Bill says he can't go because he has to see his son, Justin tries to convince him he must. Thorne bonds with Will and Katie as they wait for Bill. After Bill misses time with Will to take the meeting, Katie informs Brooke she is considering suing Bill for full custody of Will. Thorne tells Katie that she should follow through with a court case. Liam and Hope have fun during their honeymoon.
Days of Our Lives
Ciara confronts Hope for trying to get Ben to leave town. Sonny confesses his true feelings to Will. Adrienne and Bonnie come face to face. Marlena and John receive a strange wedding gift in the mail. Something happens at John's bachelor party that could derail the wedding. Marlena's bachelorette party is met with two surprise guests. Kayla is upset by her tarot card reading. Susan asks Will for forgiveness. Marlena suffers a nightmare about her wedding. Shawn is upset to learn that Ciara and Ben live together. John and Marlena gather with family and friends on their wedding day. Someone unexpected crashes the wedding. Sonny tries to forget having any chance with Will. Will experiences a breakthrough. Sami warns Marlena of danger. Total chaos erupts at the wedding after a shocking turn of events. Sami must make a difficult decision. Will and Sonny share a close moment.
General Hospital
Lucas get support from Sam. Brad turns to Julian for advice. Drew has questions for Margaux. Sam reflects on her loss. Sonny consoles Carly. Julian starts investigating. Valentin turns to Curtis for some help. Alexis meets with Diane. Jason grows more concerned for Carly. Kevin is distracted. Finn thinks on his feet. Jason has a warning for Drew about his new friendship. Sonny confides in Felix. Mike experiences a false alarm.
The Young and the Restless
Phyllis tells Summer she wants to rebuild their relationship. Summer decides to keep going after Billy. Kyle advises Summer to prioritize her relationship with her mother, but she ignores him. An upset Kyle begins to realize that Summer has true feelings for Billy. Jack works on Ashley's behalf to try to convince Nick to buy the company holding the Jaboutique leases. Nick agrees, but surprises Jack by not planning to cancel the contracts, instead raising the rents. Billy erupts with anger at Nick. Kyle supports Mariah as she worries about where Tessa is and he offers to hire a private investigator. Neil worries Ashley isn't as committed as he is as they explore a relationship. They agree to take things slowly and see where they go. As Sharon and Nick prepare for their wedding, Sharon decides to ask Abby to be a bridesmaid. Lily is focused on making peace with Devon while facing time in prison. Devon continues to hold a grudge. Victoria becomes anxious when she learns that Nate and Nikki are worried about her stress levels.