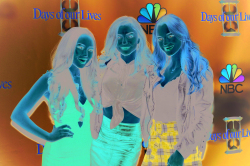 Thia Megia, Victoria Konefal and Olivia Keegan from "Days of Our Lives"
The Bold and the Beautiful
Shauna is shocked to find out that Bill is Wyatt's father. Bill tells Katie that he regrets the time he missed with Liam and Wyatt, and that he still resents Quinn for keeping Wyatt a secret. Quinn becomes curious when Shauna insists that Flo should not find out who her father is. Meanwhile, Flo thanks Wyatt for helping her with the DNA test. Bill and Quinn are both thrown for a loop when Shauna reveals that she has met Bill before. Zoe tries to keep Hope away from Flo when Hope thinks they can connect over more than just their lost children. At the same time, Bill calls Wyatt to his office and delivers stunning news. Flo dodges the question when Hope asks her why they can't be real friends. Bill and Shauna answer tough questions before Wyatt tells them that Flo has already taken a DNA test. Flo's attempts to tell Hope the truth fall on deaf ears. Donna, Katie and Brooke talk about their childhoods. Bill, Quinn, Wyatt and Shauna all react as the identity of Flo's father is revealed.
Days of Our Lives
Ted reveals that he's in love with Hope. Rafe asks Jordan who the father of her baby is. Abe shares with Eli his concern over Lani's attachment to baby David. Jennifer is shocked when Eve tells her that she and Jack are getting married. Marlena opts to tell Sarah the truth about Eric's feelings for her. Will and Sonny wait for Will's test results. Claire helps Haley prepare for her wedding to Tripp. Eric offers to help Jennifer put a stop to Eve and Jack's wedding. Rex and Sarah have shocking news for Will and Sonny. Jennifer goes to extremes to prevent Eve from tying the knot with Jack. Lani tries to convince Rafe to keep custody of David. Ted asks Hope to leave Rafe for him. Claire makes a momentous confession to Eve. For the first time, Ben meets his nephew. Haley and JJ share a warm moment as she forgives him. Rafe tells Hope about his decision to take care of baby David. Eve grows concerned when she can't find Jack before their wedding. Someone unexpected crashes Haley and Tripp's wedding.
General Hospital
Chase issues a warning to Shiloh. Kristina and Daisy make plans. Alexis confides something in Neil. Michael feels shaken. Jason must act quickly. Neil offers some cautionary advice. Harmony sends a distress call. Alexis wants to speak with Sonny. Anne is consumed with emotion. Molly confronts Sam. Michael turns to Chase for help. Finn offers his unique expertise. Valentin crosses with Spencer. Laura grows softer.
The Young and the Restless
Victoria continues to hide out in Las Vegas, but Billy calls her and reveals that he knows where she is. Victoria then tries to lose herself in the embrace of musician Brandon Rose. Brandon tells Victoria that her father has been spotted, but she tries to put thoughts of her family out of her mind. Unable to avoid reality when Billy comes knocking on the door, Victoria is worn down, and the two share a passionate kiss. Billy runs into his old gambling rival, Sinead, but resists the temptation to join the game. Victor doesn't show up to the game, but Victoria surprises everyone with a big win. Cane talks to Traci about his marital problems and he blames them all on Billy. Traci helps him to see that he is responsible for his own marriage woes. Tessa begins to find her voice as a songwriter. Mariah appeals to Devon on Tessa's behalf. Devon sees a real change in Tessa, so he gives her another chance, and assigns Ana to manage her career.