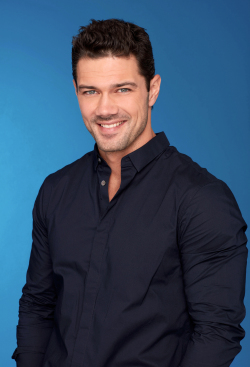 Ryan Paevey stars in "General Hospital"
The Bold and the Beautiful
Steffy decides to fight for her marriage, but Ridge wonders why she signed the annulment papers in the first place if she doesn't want the relationship to end. Ridge tries to convince Liam to get back with Steffy, while Wyatt remains unconvinced that Liam's decisions are the right ones. Hope suggests that Liam stay in the cabin on her property, but after Liam decides whether to stay with Hope or go with Steffy to her ultrasound appointment, Dr. Phillips gives him and Steffy some startling news that leads to the two of them comforting each other. Emma, the new intern at Forrester Creations, makes an impression on Ridge and Eric. After Wyatt calls off his engagement to Katie, Bill reveals his plans for Spencer Publications, but uses the information provided by Wyatt to his own advantage.
Days of Our Lives
Vivian and Kate lash out at each other while trapped in the secret room, while Marlena finds herself stuck between them. Miguel finally begins moving against Lucas, and ends up abducting Chloe. Chad flies into a rage after making a shocking discovery, forcing Hope and Rafe to arrest him. Later, Abigail shares the lowdown on Chad with Jennifer. Now in prison, Gabi encounters someone who puts her life in danger. While on the run, Gabby bumps into Steve, but she refuses to leave Stefan's side despite his urging. Eve mistakenly believes that the Bella contest was rigged by Brady, tossing her into a rage, and Eric and Jennifer have a romantic evening together. Abigail slips through Steve's fingers, frustrating him, and Brady is rushed to the hospital by Lucas. Wyatt and Ciara manage to put their past behind them, and later, Ciara and Tripp plot to trap an unsuspecting Claire. Victor begins digging into Brady's past after he shows just how committed he is to winning back Eve. Eli turns to Julie for help with Lani's condition.
General Hospital
Anna makes a startling confession, and later, pays a visit to Alexis before she comes clean. Jordan finds herself backed into a corner, and Diane bears less-than-good news. While Nelle turns the situation to her own advantage, Ava has a meeting with Scott. Ava comes to realize that she may be her own worst enemy. Sam helps out an old friend and questions Curtis. Lulu runs into Moxie, Julian bumps into Lucas and Franco finds himself struggling between two evils. Drew finds himself filled with skepticism.
The Young and the Restless
Arturo and Nikki resume their affair, but when he seems to be getting closer to Abby, the relationship falters until Arturo insists that the two of them are just friends. Jack installs Billy as the new COO, but makes a move to protect his own position at the company while also struggling to make things right for his family. Hilary reveals that she is pregnant with Devon's child, but the revelation doesn't warm his attitude towards her, and Hilary is hurt by the indifference that he shows. After she announces the news on her live show, Devon becomes even more upset with her, and the tension even extends to his family and nearly leads to blows between Hilary and Lily. Nick considers starting over with a clean slate in the wake of his father Victor's health problems. Kyle puts pressure on Abby to share family secrets after Dina lets slip that they exist, but she keeps all of the juicy details to herself.