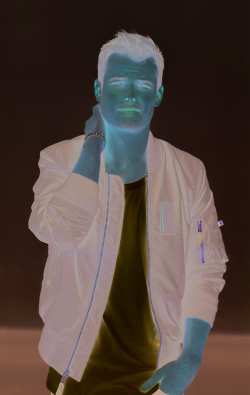 Michael Mealor as seen in "The Young and the Restless"
The Bold and the Beautiful
Flo's entire world is shaken when she learns the identity of her father. Quinn questions Bill about his past involvement with Shauna in Las Vegas. Flo asks Shauna to play along when Hope brings up Flo's "daughter," Phoebe. Bill arrives at a conclusion about why Quinn is so hard on the women in Wyatt's life. Shauna loses it when she discovers Flo's involvement in the baby-switch drama. Hope and Liam talk about when Steffy should find out about Flo's father. Ridge is thrown for a loop by Thomas's revelation about his feelings for Hope. Liam fights for the love he shares with Hope in an effort to overcome her sadness. Liam finds comfort with and gets some relationship advice from Sally and Wyatt. Thomas advises Hope to have Liam go visit Steffy and the girls in Paris.
Days of Our Lives
Jack points the finger at Adrienne for trying to sabotage his and Eve's wedding. Jennifer confesses to JJ that she may have lost Jack for good. Claire crashes Haley and Tripp's wedding. Ben invites Ciara to stay the night with him. Brady raises objections when he learns that Kate wants a job at Titan. Will has a frightening episode at the hospital. Gabi doubles down on trying to seduce Stefan. Eric makes a surprising offer when he learns that Rex and Sarah have set a wedding date. Chloe is enraged when she discovers Brady's deception. Ben learns that the cartel is back in Salem. Eric tells Sarah about his regrets regarding Nicole. Marlena and Sonny anxiously await news about Will. Gabi and Ciara are held hostage by the cartel. Brady finds Chloe in a dangerous situation. Rafe tells Lani about his fight with Hope. Rex confronts Eric about his feelings for Sarah. Rafe is rushed to the hospital after getting shot. Hope joins forces with Ben to rescue Ciara. Gabi and Stefan share a kiss. Eli listens in on Ted during a mysterious phone call.
General Hospital
Shiloh is manipulated by Sam. Michael puts the pieces together. Franco butts heads with Cam. Jason finds out about Brad's loyalty to Dawn of Day. Sonny disagrees with Margaux. Michael lends a sympathetic ear. Sonny shares words of caution with Jason. Alexis discovers that Kristina got some help from Julian. Carly is moved to a tearful state. Jordan and Franco meet up. Ava turns to Scott for help. Laura focuses on the important things. Kevin receives a warm invitation. Shiloh and Jason have a confrontation.
The Young and the Restless
Phyllis shows incriminating photos of Kyle and Lola to Jack and threatens to reveal them to the press unless Jack gives up ownership of Fenmore's. Jack becomes angry and refuses to give in to her demands, while also warning Kyle about her plans. Victoria fills Nikki in on Victor's secret trip to Las Vegas. The mother and daughter then go rifling through Victor's files in his office. Cane apologizes to Billy for his actions and admits that he wants to take responsibility for his actions. With the hope of besting Ashley, Jack asks Abby if she would partner with Jabot for the opening of the restaurant. Abby is flattered but turns him down saying she won't take sides. Kyle finds himself caught between Summer and Lola and unable to choose between them. Jack advises Kyle to choose soon because the longer he waits, the more hurt he will inflict. Summer grows suspicious of Kyle and becomes more determined than ever to keep him. Devon tries to sign Jett, but he turns the offer down because he believes his singing days are behind him. Someone throws a brick through the window of the coffeehouse, shocking Mariah and Tessa.