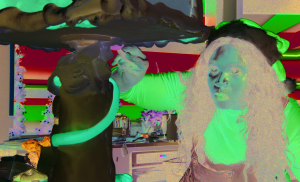 A scene from "Sugar Rush Christmas"
From romantic comedies to Christmas-themed episodes, Netflix's holiday programming is sure to make your days merry and bright. And while there's been plenty of buzz surrounding original movies such as "Dolly Parton's Christmas on the Square" and "The Christmas Chronicles 2," the streaming service has also cooked up a little something for bakers and baking enthusiasts.
Netflix released a second installment of "Sugar Rush Christmas" on Nov. 27. If you watched last year's edition, or even the regular series (you have three seasons' worth of episodes to choose from), you know how this fast-paced baking competition works.
In each episode, four teams race against the clock and compete in three elimination rounds: first cupcakes, then confections and, finally, cakes. If a team finishes under time in the first two challenges and makes it to the final round, any leftover minutes will give them a much-needed time bonus to make a great final impression. But as most bakers will tell you, cutting corners to save time and rushing through a task doesn't always work out, and, ultimately, only one team will be going home with the $10,000 prize.
With "Sugar Rush Christmas" (Seasons 1 and 2), every challenge has a holiday twist. Previous themes have ranged from booze-filled cupcakes to edible "ugly" holiday sweaters and even some "Nutcracker"-inspired sweets.
While the contestants are racing against the clock to bake and decorate perfect Christmas-themed treats, host Hunter March is back to keep things light and entertaining for viewers. Pastry chef and "Cupcake Wars" judge Candace Nelson is also back as judge for Season 2, as is the pâtissier popularly known as Australia's Willy Wonka, Adriano Zumbo ("Zumbo's Just Desserts"). In each episode, a different celebrity judge will join them to decide which sweet creation best captures the magic of the holidays.
Holiday editions notwithstanding, new seasons of "Sugar Rush" have a history of premiering in the summer. The third season, dubbed "Extra Sweet" because of its side challenges and new reward system, was added to the Netflix library in July. There's no word yet on a fourth season but, according to Bustle, the casting process usually gets underway in January, roughly six months prior to the season premiere, so we could still see a fourth season in 2021.