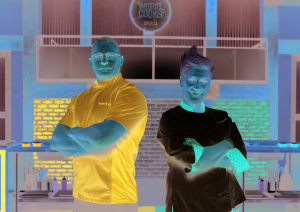 Chefs Robert Irvine and Anne Burrell in "Worst Cooks in America"
After seven years, it's well past time for a rematch. "Worst Cooks in America" is back with a new group of culinary dunces eager to improve their skills, and one of their two mentors is itching for a win.
Chef Robert Irvine returns to boot camp when the latest season premieres Sunday, Aug. 12, on Food Network. He starred as one of the two mentors back in 2011's season 2, ultimately losing to chef Anne Burrell in the final throwdown between their recruits, but she won't be any easier to beat this time around. Burrell's been with the show, and its celebrity spinoff, since the beginning, and she wins far more often than she loses.
In "Worst Cooks in America," a group of people who are absolute disasters in the kitchen are divided into two teams that are then mentored by the chefs, who try to teach them some basic and advanced cooking skills over the course of several weeks. At the end of every week, each team's mentor sends the worst-performing recruit home, until only one home cook remains on each team.
It's a fun-filled, lighthearted sort of competition that leans heavily on the kitsch for laughs, but the recruits really do learn a lot from their mentors. Come the finale, when chefs Irvine and Burrell each have just a single home cook left on their respective teams, all those acquired skills are put to the test when the recruits prepare a restaurant-quality meal for a panel of judges, without any help from the chefs.
Whoever cooks the meal the judges like best earns $25,000 -- and also bragging rights for his or her mentor, who can rightly take credit for turning a kitchen disaster into a kitchen ... well, maybe not quite a kitchen master, but at least someone who can boil water without burning the place down.
Fourteen of the country's worst cooks enter the kitchen with dreams of turning their kitchen disasters into culinary successes when "Worst Cooks in America" returns, with Robert Irvine champing at the bit for a rematch against Anne Burrell. Catch the premiere on Sunday, Aug. 12, on Food Network.