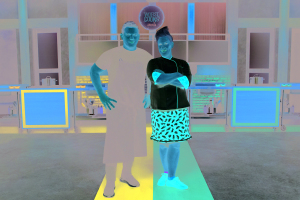 Tyler Florence and Anne Burrell host "Worst Cooks in America: Celebrity Edition"
Call it schadenfreude or the democratization of celebrity, but we have a tendency to elevate celebrities and tear them back down at any hint of excess or misbehavior. Maybe that's why we love seeing celebrities humbly acknowledging that, like us, they're just not good at doing some things. Like cooking, for example.
That's why "Worst Cooks in America: Celebrity Edition" is still going strong. The sixth celebrity edition premiered last week on Food Network, and the action continues this Sunday, May 17, under the watchful eye of host/team leaders/chefs Anne Burrell and Tyler Florence.
The format is largely the same as the last celebrity edition, which was won by figure skater Tonya Harding. Other than the themed challenges and recipes, the only new ingredient is this season's celebrity recruits: "Bachelorette" and "Bachelor in Paradise" alum Wells Adams (he's also engaged to "Modern Family" star Sarah Hyland); Johnny Bananas from MTV's "The Challenge"; comedian Dave Coulier, aka Uncle Joey from "Full House" and "Fuller House"; comedian Bridget Everett, known for her standup routines on "Inside Amy Schumer"; actress Robin Givens, one of the stars of "Riverdale" and '80s sitcom "Head of the Class," and Mike Tyson's most famous ex-wife; Sonja Morgan of "The Real Housewives of New York City"; and comedian Brian Posehn, who played Bert in "The Big Bang Theory."
Last week, these seven self-avowed worst cooks were separated into teams and given the task of whipping up a boozy brunch before one of them was sent home (no spoilers in case you want to watch the rebroadcast on Sunday).
This week's theme is the Triple Crown, which would have been pretty timely since The Preakness Stakes was originally set for May 16 before its postponement due to the COVID-19 pandemic. The recruits will race to put together a flavorful crostini before learning how to make a fancy steak dinner. (Why a steak dinner? It's a play on the word "Stakes.")
The big finale will feature a blind tasting judged by celebrity chef Dan Churchill, "Sandwich King" host Jeff Mauro and HGTV's Grace Mitchell. The last celebrity recruit standing, the one who has admirably gone from worst to not-the-worst, will win $25,000 to donate to the charity of their choice. But that's still a few weeks away, so get in on the journey and tune in to Sunday's episode of "Worst Cooks in America: Celebrity Edition."