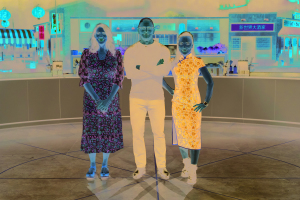 Judge Daniela Soto-Innes, host Robert Irvine and judge Shirley Chung from "The Globe"
Anyone with wanderlust has been counting down the days until international travel returns, or rather until it returns to "normal." Maybe you're longing to visit extended family, unwind on a beach or explore an unfamiliar place (or any place that isn't your house, really). Or maybe you're just craving some new flavors and food experiences.
With all the additional restrictions and talk of new variants, international travel might not be an option for most, but "Restaurant: Impossible's" Robert Irvine and discovery may have found a way to bring the world to you -- or at least some of its food.
Hosted by Irvine, "The Globe" is a new culinary competition series that begins streaming on discovery on Saturday, July 17. In each episode, four talented chefs compete in three rounds of culinary challenges. And here's where the "Globe" part comes in: everything takes place in an arena, where immersive LED screen backdrops will transport the chefs and the viewers to different places in the world.
That description might trigger memories of virtual calls with relatives who keep cycling through the backdrop options while you politely look on, but this isn't just for optics or to channel a "vacay" vibe. Those changing backdrops determine the theme for each round and the ingredients used, because the chefs will have to keep things "local." If they can't do that, or if their global dishes fail to impress the judges, they'll be eliminated, "Chopped" style (one in each round), until the last one standing wins a trip to one of the featured destinations.
But even if they win, their journey isn't done. The first four episodes are preliminary heats for the big finale, in which the ultimate winner gets a $25,000 grand prize.
Chef Daniela Soto-Innes will serve as the resident judge, while the rotating panel of guest judges includes chefs and food celebrities with ties to each region.
On the July 17 episode of "The Globe," the first stop is Beijing, China, where the chefs can only cook with the traditional Beijing hot pot. Next up is Tel Aviv, Israel, where they must create Israeli Shipudiya (skewers) and Salatim (salad), before moving on to Accra, Ghana, where plantains and cassava are on the menu.
Where will they go next? A new episode of "The Globe" will be available for streaming each Saturday on discovery following its July 17 premiere.