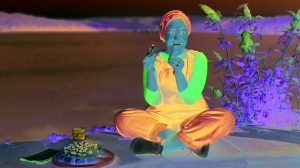 Nadiya Hussain in "Nadiya Bakes"
Looking to indulge in some sweets-themed programming this Valentine's Day? Food Network's weekend lineup is a celebration of all things chocolat (chocolate treats, not the 2000 film starring Johnny Depp) but if you prefer pastries under pressure, a new season of "Chopped Sweets" landed on discovery on Feb. 9.
Over on Netflix, a new series was recently added (Feb. 12) to the streamer's library, and it might be a winner for fans of "The Great British Baking Show." It's called "Nadiya Bakes," and it features the 2015 winner of "The Great British Bake Off," Nadiya Hussain.
This is Hussain's second series on Netflix. Her first, "Nadiya's Time to Eat," successfully debuted last spring. But while American audiences are seemingly just getting acquainted with Hussain, the self-taught British-Bangladeshi baker and author is a familiar face (and name) to British foodies after fronting several BBC productions, including these two Netflix series (both of which originated on the U.K. broadcaster).
While "Nadiya's Time to Eat" focused on easy, inexpensive meals for home cooks of all skills, "Nadiya Bakes" is all about Hussain's first true love. In each episode, she invites viewers to step into the kitchen as she serves up recipes for freshly baked bread, everyday treats and delectable cakes. And Hussain definitely knows her stuff when it comes to cake — after all, she was commissioned by Buckingham Palace to bake a cake for the queen's 90th birthday.
In "Nadiya Bakes," Hussain continues to radiate infectious joy at every turn as she shares baking tips and tricks that could make your work easier in the kitchen. Mind you, the kitchen you see on screen isn't actually Hussain's kitchen. The series filmed last July at a home in Devon, United Kingdom, where she and the crew had been isolating for two weeks.
As with "Time to Eat," Hussain released a tie-in cookbook the same week "Nadiya Bakes" premiered on BBC Two. In fact, she's emerged as an accomplished writer. In addition to newspaper and magazine columns, her 2017 book, "Bake Me A Story," was up for "Children's Book of the Year" (British Book Awards) and in 2019 she released a memoir titled "Finding My Voice."
But television is where Hussain shines brightest, and that is plenty evident in "Nadiya Bakes," now available to stream on Netflix.