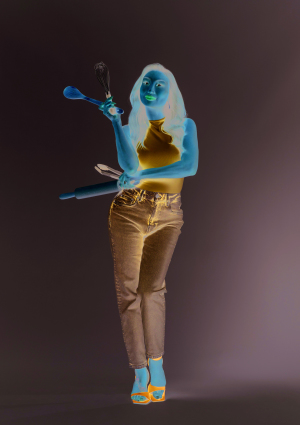 Jeannie Mai Jenkins hosts "America's Test Kitchen: The Next Generation"
The hunt for new cast/team member is on for "America's Test Kitchen" (or "ATK"), and the hiring process is about to play out before our very own eyes.
Premiering Friday, Dec. 9, on Amazon Freevee — the (free) streamer previously known as IMDb TV — "America's Test Kitchen: The Next Generation" is a new cooking competition series, hosted by Jeannie Mai Jenkins ("The Real"), that serves as an on-air job interview of sorts.
Out of a pool of more than 700 applicants, 11 contestants have made the cut and are invited to take part in the search for new on-air talent. In various challenges that should resonate with home cooks, the contestants will have to demonstrate their know-how and wow the judges with their culinary creations in order to avoid elimination. The last cook standing will be awarded a $100,000 prize, a cookbook deal and an invitation to join the "ATK" cast.
Across its PBS shows, magazines, books and other platforms, "ATK" has always sought to teach and inspire everyone to cook with confidence. The candidates vying for a spot on the "ATK" team will need to demonstrate their culinary expertise in every cooking challenge, but there will also be photography and presenting challenges. Given "ATK's" heavy use of visuals to hook and inspire home cooks, this aspect of the competition is an interesting way to pull the curtain back a little and provide a glimpse of the tremendous amount of work that goes into each recipe and every drool-inducing food shot.
If you already watch "ATK," you know the judges of "The Next Generation" — host Julia Collin Davison ("Julia at Home"); test cook Elle Simone Scott ("The Chew"); tasting lab expert Jack Bishop ("Cook's Country"); and "Cook's Illustrated" editor-in-chief Dan Souza. The four of them will decide which candidate has the right combination of cooking and communication skills, and "a good sense of humor, please," according to a post on the show's website (AmericasTestKitchen.com).
"America's Test Kitchen: The Next Generation" begins Friday, Dec. 9, on Amazon Freevee, with new episodes posted weekly until the big, Feb. 10 finale.