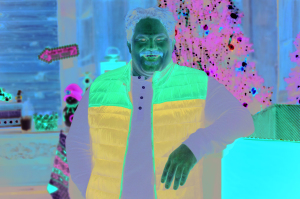 Casey Webb hosts "Santa's Baking Blizzard"
It's finally here. After days -- no, weeks -- of meal planning and holiday scheduling, it's time to have a seat and savor a beautifully prepared meal that celebrates the harvest season and the heartwarming ties of kinship.
Once you're done, and if you're not dashing out to check out early Black Friday sales, gather the family and settle in for a chat, a post-turkey nap or some family-friendly TV viewing, courtesy of Food Network.
Since Thanksgiving marks the official start of the holiday season, Food Network is ready to slip into a different festive mood, and it hopes you will be, too. Its newest holiday-themed tournament, "Santa's Baking Blizzard," will premiere Thursday, Nov. 28, which gives the four-part event just enough time to wrap up before Christmas.
Casey Webb of "Man vs. Food" is the host of this new food art competition event. And each week viewers will watch three teams of ice sculptors and cake artists compete to create show-stopping Christmas displays that truly capture the magic of the holiday season.
Move over Yule log cake (but not too far, I want a piece) -- we're talking over-the-top creations that are, essentially, the Christmas equivalent of what we saw on "Halloween Wars." And they're all competing for a spot in the finale and the chance to win the grand prize of $25,000.
The judges for this one are: food writer and cake connoisseur Jocelyn Delk Adams; chef and frequent "Chopped" judge Amanda Freitag; and pastry chef Zac Young, who helped determine the winner of another Food Network holiday series, "Halloween Baking Championship." (Young also invented the PieCaken, a mind-blowing and diet-destroying dessert creation that warrants a mention in this column every time his name comes up.)
If you think it's a little too soon to be talking about Christmas, keep in mind that Thanksgiving came a little later this year (the latest was in 1865, when Andrew Johnson proclaimed the first Thursday in December as a day of thanksgiving).
And maybe you missed some of the holiday-themed shows that premiered earlier this month. "Holiday Baking Championship" and "Christmas Cookie Challenge" both premiered on Nov. 4 to (presumably) get you inspired as we head into the bake sale and holiday party season. There's also the first-ever holiday edition of "The Great Food Truck Race," airing Wednesday, Nov. 27. And you can expect plenty more holiday-themed programming in the weeks ahead.