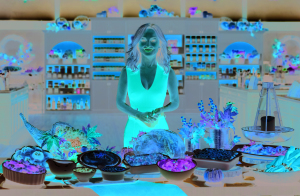 Giada De Laurentiis hosts "Ultimate Thanksgiving Challenge"
The days are getting shorter and the nights are getting crisper, and that can only mean one thing: Thanksgiving is on its way. With only a few weeks to go until Turkey Day is upon us, Food Network is stuffed with more than 25 hours of programming that celebrate the most food-focused of holidays.
Kicking off the festivities on Sunday, Nov. 4, is "Ultimate Thanksgiving Challenge." Giada De Laurentiis ("Giada at Home") serves as host for the competition series that brings five talented and experienced chefs together to cook the most decadent and delicious Thanksgiving dishes, while judges Alex Guarnaschelli ("Iron Chef America"), Carla Hall ("The Chew") and Christian Petroni ("Food Network Star") watch their every move.
Over the span of the three-episode series, Giada challenges the chefs to transform Thanksgiving classics in creative and delicious ways. In this week's premiere, the five contestants are tasked with taking a classic Thanksgiving side dish and reinventing it into something modern and unexpected. The winner of that challenge gets a special advantage to use in the second round, where the contestants are challenged to make a turkey dinner with only an hour on the clock -- and as if that wasn't hard enough, they also have to incorporate an ingredient that was at the very first Thanksgiving.
Over the next two weeks, the remaining contestants will be asked to turn sweet desserts into holiday sides, transform Thanksgiving leftovers into meals that wouldn't seem out of place in a fancy restaurant, cook without the use of crucial kitchen equipment and utensils, and make a full Thanksgiving meal in just three hours.
The holiday can already be a stressful time of the year, and the five competing chefs certainly aren't making it any easier on themselves, with one of them being eliminated at the end of each episode. At stake, though, is a $25,000 prize that's guaranteed to fill the winner with a good dose of Thanksgiving cheer. "Ultimate Thanksgiving Challenge" kicks off Food Network's enormous amount of holiday programming on Sunday, Nov. 4.