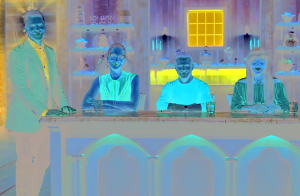 "Halloween Baking Championship" host John Henson with judges Carla Hall, Zac Young and Lorraine Pascale
Well, it's officially autumn, and for lots of people that means preparations for the year's spookiest holiday are in full swing. The folks over at Food Network are no exception, with a terrifying number of Halloween-themed shows and even more themed episodes of the culinary channel's tried-and-true series.
First out of the gate is "Halloween Baking Championship," premiering Monday, Sept. 24. The audience favorite returns for a fourth season with eight new bakers eager to show off their skills to the judges in a series of chilling challenges that just get more and more difficult as the competition progresses.
Speaking of judges, this year's trio of panelists will look awfully familiar to fans, with the same three baking experts returning for more treats. Former "The Chew" host Carla Hall is back in the chair that she's kept warm through every season since the very first season of "Halloween Baking Championship." She brings an expansive breadth of culinary expertise to the judging table, having competed -- and done well -- in two seasons of Bravo's "Top Chef."
Hall is joined by two other returning judges. Pastry chef Zac Young, who's a frequent guest in a wide array of Food Network and Cooking Channel shows, is back for a second season, along with model-turned-culinary expert Lorraine Pascale, who's had a number of hit cooking shows in her native United Kingdom, and who also serves as a judge in Food Network's "Spring Baking Championship" and "Holiday Baking Championship."
It isn't just the judges who have returned for another year's trick-or-treating. Three-time Emmy nominee John Henson, who hosted ABC's "Wipeout" for its seven-season run, returns to host for a second season, assigning the bakers their insidiously difficult tasks and providing witty commentary throughout.
It isn't just a cash prize at stake for the bakers. On top of the $25,000, the winner also gets the honor of being featured in Food Network Magazine -- truly a worthy trick-or-treating haul! "Halloween Baking Championship" premieres Monday, Sept. 24, on Food Network.