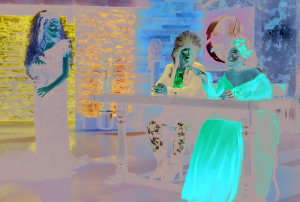 "Haunted Gingerbread Showdown" host Sandra Lee with judges Jason Smith and Jamika Pessoa
It seems that gingerbread isn't just for the holiday season anymore. Of course, the sweet and snappy treat can be enjoyed at any time of the year, but gingerbread houses with their elaborate decorations and cookies accented with royal icing really do scream "Christmas."
Well, Food Network's been challenging ginger-based norms all month with "Haunted Gingerbread Showdown," which has been airing on Sunday evenings. Nine of the nation's best gingerbread artists have spent the past three weeks tackling deviously difficult challenges, and it all comes to a head when the three top competitors finally face off in the competition's finale right before Halloween, on Sunday, Oct. 28.
Cookbook author and "Semi-Homemade Cooking" host Sandra Lee oversees the spooky competition, which has been terrifyingly intense so far. Over the past three weeks, the competitors have been tasked with baking gingerbread creations to celebrate the 30th anniversary of the classic 1988 film "Beetlejuice," putting together a delicious party that's filled with gingerbread ghouls, ghosts and their spooky friends, and building a haunted theme park complete with spine-chilling rides and attractions. All made out of gingerbread, of course, with candy and icing adding color and detail to the creations.
For the three bakers who have made it to the finale, the challenge that awaits them must be as terrifying as the other competitors. Some very special Halloween fans join judges Jamika Pessoa ("Food Network Star") and Jason Smith ("Best Baker in America") for their final baking task, in which Lee challenges the contestants to create the ultimate Halloween-themed gingerbread house. At stake is $25,000 for the winner, not to mention the bragging rights that come from beating such talented bakers.
Gingerbread houses are a classic Christmas treat, but there's really no reason that buildings made out of sweet cookies can't be enjoyed at other times of the year. After all, Halloween is all about sugary delights and incredible decorations, so join Sandra Lee in the conclusion of "Haunted Gingerbread Showdown," airing Sunday, Oct. 28, on Food Network.