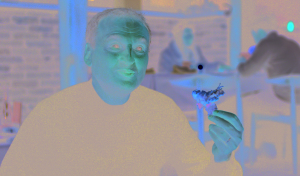 Phil Rosenthal in "Somebody Feed Phil"
In an interview with Deadline last month, Phil Rosenthal made the following statement: "I don't want to live in a world without the diner and the coffee shop and the mom and pop places, the ethnic restaurants. We live life in restaurants – it's the center of social life, where we celebrate with family and friends, make new friends, travel without traveling and, of course, eat."
He was commenting on the pandemic's devastating impact on the restaurant industry, but it also gives a sense of how his passion for food runs deep.
Rosenthal is the creator, writer and executive producer of the hit sitcom, "Everybody Loves Raymond." But his most recent project is "Somebody Feed Phil," a food-centric travel show that began streaming its third season, dubbed the "Third Course," on Netflix last month.
If you're in a constant state of wanderlust or hunger, or if you're feeling nostalgic for pre-pandemic life right now, it's hard not to envy the New York native as he criss-crosses the globe in search of good eats. It's a journey that started years ago on PBS as the James Beard Award-winning "I'll Have What Phil's Having." But after one season, the project moved to Netflix -- production costs were reportedly too high for the public broadcaster -- and it was relaunched in January 2018.
Since then, the series and its host have made stops in places such as Bangkok, New Orleans, and the home of Noma, Copenhagen. But whether the destination is Marrakesh or Montreal -- both are featured in Season 3 -- you can always expect genuine reactions from Rosenthal, who clearly relishes trying new things and meeting new people. In fact, Rosenthal's affability and sense of humor can make it feel like you're watching an upbeat Ray Barone (Ray Romano's character on "Everybody Loves Raymond") taking over as host of "Parts Unknown" from the late Anthony Bourdain. Mind you, it might also have to do with the fact that the two shows, "Somebody Feed Phil" and "Parts Unknown," share the same crew and showrunners.
Fortunately for fans of the show and its great food shots, the new installments of "Somebody Feed Phil" completed filming in January ahead of the pandemic shutdown. Five episodes of Season 3, plus the two seasons before it, are available now for streaming on Netflix, and according to the host, a fourth season will likely drop this fall or winter.