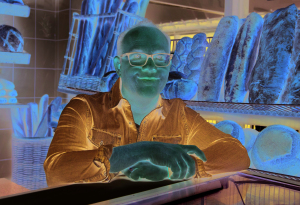 Tom Papa hosts "Baked"
Tom Papa ("The Informant!," 2009) may be a comedian, but the mission that he's set for himself is no laughing matter. The head writer of nationally syndicated radio show "Live From Here" is traveling from coast to coast to find the best breads and pastries that the country has to offer, and while it may be serious business, that doesn't mean it has to be stale.
Papa's "Baked" premieres with back-to-back episodes on Monday, Sept. 3, on Food Network, and as the name suggests, the new series is focused entirely on carb-heavy baked goods. Sourdough is the comedian's specialty, but his passion for baked fare transcends yeast and flour types as he shines a light on local bakeries and the hoops that they jump through to make life sweeter for their customers.
In the premiere, the host is in New York City, where he hooks up with fellow comedian Jim Gaffigan ("The Jim Gaffigan Show") at a doughnut shop for the ultimate Big Apple treat: a glazed doughnut that's smothered in everything bagel topping. On the hunt for more carbs, he then heads to Gian Piero Bakery, where he helps make Italian American rainbow cookies before swinging by another local bakery for a bread boat filled with butter, eggs and cheese -- a Georgian specialty (the country, not the state).
As if that isn't enough, Papa tops off his New York visit with a master class in old-world breads and mouthwatering croissants before he's off to Michigan for the night's second episode. His first stop is in Detroit, where he fills up on tasty chicken and red velvet waffles served by a former NFL player before heading to Dearborn, where Middle Eastern pastries and breads are on the menu, including freshly made pita stuffed with roasted lamb. Finally, the host enjoys a little taste of Poland when he learns how to make rich, filled doughnuts called paczki.
Comedy and carbs go together so well, and "Baked" is packed full of both. Join host Tom Papa as he brings two of life's greatest joys together starting Monday, Sept. 3, on Food Network.