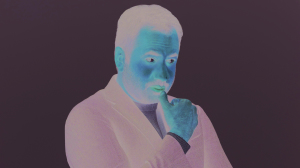 Actor Kal Penn to host "Money Hungry"
They say that every great bite strikes the perfect balance between heat, fat and the five tastes: bitter, salty, sour, sweet and savory "deliciousness," otherwise known as umami.
Our taste receptors and sense of smell determine how we perceive flavors, and the ability to deconstruct a recipe to identify its individual components is important for top chefs and wine connoisseurs. That's why the words "refined palate" are frequently tossed around, but it's a skill that comes easy to about a quarter of the population, according to a study from Oxford University, which found that some people have more sensitive palates that make them natural "super tasters."
Super tasters would do well on a new Food Network competition that begins next week. The new series "Money Hungry" is airing a sneak peek, which has been pushed back to Sunday, Aug. 8 (from July 25), before settling into its regular Tuesday time-slot on Aug. 10 (formerly July 27).
In this five-episode contest, the competitors are professional chefs, restaurant critics, cookbook authors and home cooks, and the competition is a test of their taste buds. They'll compete in "a series of increasingly complex tasting challenges that push their sense and culinary knowledge to the limits" (per Food Network).
Each dish is revealed under a cloche, and that dramatic reveal starts the clock: competitors only have 60 seconds to taste and identify the ingredients. Then it's on to the main course round, and the challenges only get tougher from there.
"Money Hungry" does borrow one idea from "Who Wants to Be a Millionaire": lifelines.
In each episode, two guest panelists are available to competitors who are struggling to dissect a dish. Those contestants can opt to cash in their limited "flavor favor" to avoid elimination, but even if they make it to the final tasting, there can only be one winner of the $50,000 prize.
The series is hosted by actor/writer/producer/foodie Kal Penn, who is probably best known for his roles in "House" and as Kumar in the "Harold and Kumar" film franchise.
"I am obsessed with the ways in which food tells stories, so hosting 'Money Hungry' is a lot of fun," Penn said in a statement released by Food Network. "The culinary knowledge and amazing palates of the competitors was so impressive — I learned a lot and am excited for viewers to see all the action."
It all begins next Sunday, Aug. 8, on Food Network, but you can also visit FoodNetwork.com/MoneyHungry for a behind-the-scenes look at the series and to meet the panelists in the meantime.