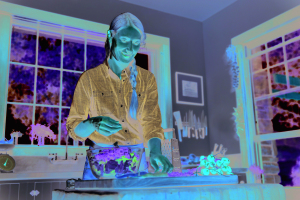 A food spread being prepared by Elizabeth Poett of "Ranch to Table"
Who knew HGTV's "Fixer Upper" would eventually spawn a hugely successful lifestyle brand and even a television network?
In 2019, hosts Chip and Joanna Gaines struck a deal with Discovery Inc. to create a "multiplatform media company" that would "comprise a linear television network and TV Everywhere app." That network is Magnolia Network, which was originally supposed to take over the DIY Network last fall.
Like many things in 2020, the pandemic threw a big ol' wrench in those plans, and the TV launch has been delayed to January 2022. In the meantime, subscribers to discovery have been able to preview quite a few original series, which are also available on the Magnolia app that rolled out on Thursday, July 15.
The latest series to preview on discovery is "Ranch to Table." The first episode actually landed on the streamer back in February, but new episodes will be available for viewing beginning Friday, Aug. 6.
The series features entrepreneur Elizabeth Poett, a seventh-generation cattle rancher living and working on her family's 14,000-acre ranch. Located in Santa Barbara County, Rancho San Julian is one of the oldest ranches in California, and the setting is tailor-made for spectacular sun-drenched shots that will make you fall in love with the California ranch life.
With "Ranch to Table," Poett aims to give viewers an inside look at life on the ranch, where Poett runs the grass-fed beef business. But this is a food show after all, and in each episode, Poett shares some of the old family recipes that have been passed down through generations.
Sure, there are plenty of parallels to be drawn between "Ranch to Table" and "The Pioneer Woman" (also streaming on discovery ), but the focus here is on cooking classic healthy foods using fresh ingredients -- think seasonal menus built around locally sourced ingredients, which, granted, are plentiful year-round in California.
Expect to sample a few different menu ideas when more episodes of "Ranch to Table" are added to discovery on Friday, Aug. 6.
Some who previewed the first episode commented that the recipes, which included a blackberry-apple galette and Santa Maria-style tri-tip, might be a tad easy for seasoned home cooks, but the cinematography alone makes for an interesting watch.
You can also get a sense of the show's vibe on Poett's website, TheRanchTable.com, which features magazine-worthy photography and recipes for pickles, meringue cookies and homemade corned beef -- the kind of foods served family-style under the ranch's oak trees.