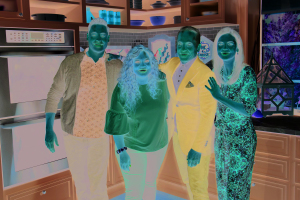 Jeff Mauro, Sunny Anderson, Geoffrey Zakarian and Katie Lee in "The Kitchen"
Life can be stressful, and weekends are supposed to be the time to unwind. Of course, there are often more things to do on the weekends than there are hours to do them, but that's where a show like "The Kitchen" comes in: an hour or two once a week of guilt-free television, a chance to hang out with some of the friendliest chefs on TV.
"The Kitchen" kicks off with a special two-hour episode on Saturday, March 2, on Food Network. Despite the double-length runtime, the episode is jam-packed with the hosts celebrating some of their favorite flavors, with a little bit of help from viewers.
As usual, "The Kitchen" is anything but formal, and the dishes that the hosts show off are full of down-home goodness. Sunny Anderson whips up an easy-to-make baked pancake that's loaded with tasty toppings and finished with a decadent lemon maple glaze. Later on, she prepares a dish that's a viewer favorite: smothered French onion chicken thighs. Meanwhile, Katie Lee shows off a dish that the show's behind-the-scenes crew loves to dig into, a fantastic Thanksgiving pot pie.
The double-stuffed episode also features some guest stars, with comedian Michelle Collins ("Gossip Queens") hanging out with Geoffrey Zakarian, who shows her how easy it is to make traditional Hungarian-style stuffed cabbage. That's not all for Zakarian, as the acclaimed chef later shares a dish that combines flavors that "The Kitchen" viewers love. He prepares creamy polenta with wild mushrooms and watercress on a plate, and serves it with a stunning European bass as the protein.
That's a lot, and it's just scratching the surface of what the two-hour episode has in store. There's also a round of Tool Takedown on the schedule, a new recipe for pizza crust that uses chickpeas, and four different ways of making a dessert that's gone viral.
There's always lots going on in "The Kitchen," and this week's episode has so much packed in that the hosts had to double the episode's size. Take some time to unwind this weekend with "The Kitchen," airing Saturday, March 2, on Food Network.