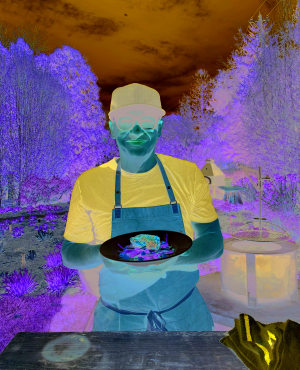 Michael Symon hosts "Symon's Dinners Cooking Out"
Whether you've been scrolling through your Instagram feed or scouring the stores for flour and yeast, it feels like everyone has spent their quarantine time in the kitchen -- even celebrities who don't normally cook.
Comedian Amy Schumer's attempt to take up cooking landed her a from-home series on Food Network. And Selena Gomez will be doing the same this summer when her HBO Max quarantine cooking series drops.
But if you're wondering where the pros are, they've been active online. In fact, Food Network star Michael Symon has made the most of his work-from-home time by hosting a live cooking class every day on the Food Network Kitchen Facebook page. And his "One day at a time, one dish at a time" message and recipes really resonated with people, because "Symon's Dinners" have gotten more than 30 million views to date.
So it's not surprising to hear that Food Network has fast-tracked a new Symon series. Look for "Symon's Dinners Cooking Out" to pop up in Food Network's Sunday daytime lineup beginning Sunday, June 7.
The chef's wife and his social media manager helped with filming "Symon's Dinners" (his puppy Norman also made a few on-air appearances), but "Cooking Out" is a self-shot project.
And as the name implies, the series follows Symon outside his kitchen and home -- but not much farther -- as he demonstrates simple yet amazing dishes that can be prepped and grilled right in your backyard.
Symon is one-half of the "BBQ Brawl" duo (his BFF Bobby Flay is the other), so you can expect to see some traditionally grilled foods such as ribs, steak and chicken. But Symon is also an Iron Chef, and that means he'll be offering up some less conventional backyard recipes, such as meatball parmesan or even chicken and dumplings.
Food Network is planning to air two more episodes of "Symon's Dinners Cooking Out" after its June 7 premiere. But if you like what you see, set yourself a reminder to go online on Monday, June 22 -- that's when the first of three weekly installments will be available on the Food Network Kitchen app.