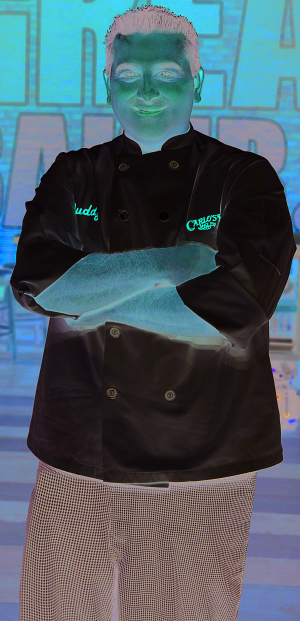 Buddy Valastro is a judge on "Macy's Thanksgiving Cake Spectacular"
There are parades, and then there's Macy's Thanksgiving Day Parade.
This year marks the 95th anniversary of the Big Apple tradition that officially kicks off the eating, er, holiday season. And there's something magical about seeing all those floats, marching bands and giant balloons making their way down 6th Avenue toward Macy's flagship store on 34th Street in New York City.
(Fun fact: Macy's Herald Square was the first building in the world to be equipped with modern escalators. You can still ride the original wooden ones up to Santaland, or up one more floor to the couches, if you're in town.)
But let's talk food. Food Network has invited four top bakers to compete in the second edition of "Macy's Thanksgiving Cake Spectacular," airing Sunday, Nov. 17. And as the title suggests, they'll be tasked with creating their best cake-and-sugar tribute to the annual spectacular.
The one-hour special debuted last year with lifestyle maven Martha Stewart as the host. In addition to the competition, viewers were treated to a sneak peek of the preparations at Macy's Parade Studio in New Jersey, where all the floats, balloons and costumes are readied until the day before the parade.
(Another fact: No matter its final size, each float must be able to fit through the Lincoln Tunnel -- the same one Buddy the Elf walked through in 2003's "Elf" -- to reach the parade route. The floats are reconstructed overnight near the starting point on the Upper West Side.)
The culinary torch has been passed and this year's host is Maureen McCormick of "The Brady Bunch" fame. With 12 days to go until Turkey Day and the parade, McCormick will help get you into the holiday spirit while competitors try to impress judges Buddy Valastro ("Cake Boss"), Susan Tercero (executive producer of Macy's parade) and last season's winner, Timbo Sullivan.
The winning cake artist will be awarded a grand prize of $10,000 and a feature spot at Macy's Herald Square.
They'll also get tickets to the parade, which may seem odd given the opportunities for free public viewing along the route. But these are grandstand tickets, which aren't available to the public. In fact, they're limited to friends and family members of parade participants and Macy's partners, and, of course, the winner of Food Network's "Macy's Thanksgiving Cake Spectacular." Tune in on Nov. 17 to find out who it will be.