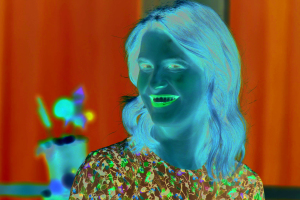 Candace Nelson as seen in "Sugar Rush"
If baking competitions are your guilty pleasure, then chances are you've already watched every episode of "Cupcake Wars" and streamed every available season of "Nailed It!" and "The Great British Bake Off." So what now?
Diving into the streamer's ever-expanding library of cooking shows, the Netflix original series "Sugar Rush" stands out as a Food Network-esque contest that checks all the boxes: a beat-the-clock format, special themes, eliminations, guest judges and, of course, loads of sweet concoctions that have some serious eye appeal.
This is the kind of lighthearted fare that allows a viewer to comfortably jump in at any time. Each episode features four baking duos and three elimination rounds -- a cupcake round, a confection-based one and a final cake round. One team is cut after each round, and by the end of the episode, the winning team is awarded the $10,000 prize.
If it all sounds familiar, there is a twist. Competitors get three hours for the first two rounds and another three for the final one. But those who work quickly and make it to the last round can top up their time with any leftover minutes (or hours) from rounds 1 and 2. And that extra time on the clock can make a big difference when you're trying to create that wow factor.
If you think that "Sugar Rush" has a similar feel to "Nailed It!," there's a good reason for that -- both shows are produced by Magical Elves Production, the company that's also behind "Top Chef." But whereas "Nailed It!" goes for laughs with terrible bakers, "Sugar Rush" is all about pushing bakers to do their absolute best.
Host Hunter March ("The Carpe Life") and pastry chefs Candace Nelson and Adriano Zumbo are the ones tasked with critiquing each dessert and deciding which team will be eliminated. In each episode, they're joined by a different guest judge, including Carla Hall ("The Chew"), Jacques Torres ("Nailed It!") and "Love Is Blind" hosts Nick and Vanessa Lachey.
Two seasons of "Sugar Rush" are currently available on Netflix.