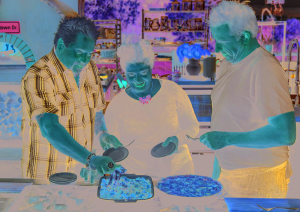 Guy Fieri, Alex Guarnaschelli and Marc Murphy in "Guy's Ranch Kitchen"
Raise your hand if you love chocolate! Sweet and creamy and oh-so-delicious milk chocolate is definitely the most popular type here in North America, but that's really just one of the countless ways that the tasty treat can be enjoyed. With Valentine's Day almost upon us, Food Network has devoted the entire weekend of Feb. 9 and 10 to the stuff, with Guy Fieri, Giada De Laurentiis and several other hosts all devoting entire episodes of their shows to chocolate.
Chocolate and Valentine's Day may go hand in hand, but heart-shaped boxes filled with truffles are just the beginning. Ree Drummond kicks off the weekend with a new episode of "The Pioneer Woman" on Saturday, Feb. 9. First, she makes Mississippi mud cake in all its chocolatey glory, along with some white chocolate macadamia nut cookies. Then, she shares her secrets to making a simple but delicious chocolate tart and whips up a chocolate fridge roll.
Later on Saturday, Fieri invites some friends over to show off just how versatile an ingredient chocolate can be in "Guy's Ranch Kitchen." First on the menu is a pair of dishes made by chef Aarti Sequeira: whipped goat cheese with cacao nibs on crostini with fresh figs, along with a cauliflower chaat salad with chocolate chutney. Meanwhile, chef Rocco DiSpirito proves that chocolate is just as much a savory ingredient as it is a sweet one with his spicy chocolate pork and beans served with chocolate monkey bread.
The chocolate festivities continue the next day, with Molly Yeh celebrating both her husband's and father-in-law's birthdays in "Girl Meets Farm." Her husband's father, Roger, is a huge chocoholic, so she makes him a decadent dessert to top off an amazing meal: a chocolate tahini cake with tahini frosting. Then, Giada helps her daughter host a Valentine's Day party for her friends in "Giada Entertains." She whips up a collection of elegant-but-kid-friendly dishes that includes cheesy chocolate ravioli, chocolate strawberry cups and sweet double-chocolate bark. Yum!
There's just so much that can be done with chocolate, and what better time of the year than Valentine's Day is there to experiment? Chocolate lovers won't want to miss this upcoming weekend on Food Network.