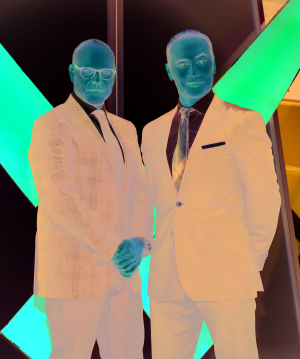 Alton Brown and the Chairman in "Iron Chef America"
Two chefs enter the kitchen, and only one emerges a culinary champion -- a classic format for a contest, to be sure, but when one of those competitors is an Iron Chef ... well, let's just say that the lack of a home-field advantage is the least of the challenger's hurdles.
"Iron Chef America" returns to Food Network on Sunday, May 20, with new challengers, a new floor reporter and all sorts of new secret ingredients. That spiffy freshness, though, is tempered by a return to what made the series great and oh-so popular in the first place.
After new episodes failed to materialize for several years despite the show never officially being canceled, "Iron Chef" burst back onto the culinary scene last year with "Iron Chef Gauntlet," a spinoff series that saw Chicago chef Stephanie Izard earn a coveted Iron Chef's jacket. Not long after that, "Iron Chef Showdown" entered the fray: it was more or less the same show as the original "Iron Chef America," but with the addition of a showdown between two non-Iron Chef hopefuls in the first half of each episode, battling each other for the right to challenge the Iron Chef.
Well, "Iron Chef Showdown" is no more -- long live "Iron Chef America." Alton Brown ("Cutthroat Kitchen") is back as the competition's host, spinning his vast culinary knowledge into play-by-play commentary for those of us watching from home. The Chairman, played by "Hawaii Five-0" actor Mark Dacascos, also returns, overseeing the competition and revealing each battle's secret ingredient. Jet Tila ("Chopped") takes over as the floor reporter, getting up close and personal with the chefs as they cook.
In this week's premiere, chef Brittany Anderson of Richmond, Virginia, enters Kitchen Stadium to challenge Iron Chef Alex Guarnaschelli. In classic "Iron Chef America" style, the Chairman will reveal the battle's secret ingredient, and both the Iron Chef and the challenger then get 60 minutes to prepare five stunning dishes -- and, of course, the secret ingredient must be the star in all of them.
It certainly isn't an easy cooking competition, but it sure is riveting to watch. "Iron Chef America" returns to its roots on Sunday, May 20, on Food Network.