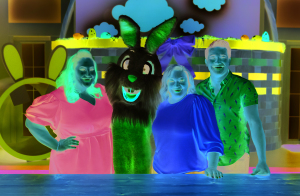 Claudia Sandoval, Sunny Anderson and Jordan Andino in "Easter Basket Challenge"
Earlier this month, Punxsutawney Phil, that "prognosticator of prognosticators," gloomily predicted six more weeks of winter. Luckily for winter-weary viewers, that forecast doesn't apply to Food Network, which has already begun injecting spring themes, flavors and colors into its prime-time lineup.
A new season of "Spring Baking Championship" kicked off on Feb. 22 and, this week, another seasonal baking competition joins the fray.
Premiering Monday, March 1, on both Food Network and discovery , "Easter Basket Challenge" is the baking show that's tailor-made for Easter-obsessed home bakers. In each of the five episodes, the culinary contestants are challenged to interpret seasonal themes and create the most imaginative edible Easter displays.
The series starts off with seven talented bakers but, as is the norm with any Food Network competition, one baker will be eliminated in each episode. Eventually, the final three competitors will have to battle it out for a Bunny Money prize worthy of Veruca Salt: a golden egg filled with $25,000.
Sunny Anderson has been tapped to host this one. "Whether the bakers are making Easter bonnets for a holiday fashion challenge or creating edible masterpieces from a playful game of Bunny Pong, 'Easter Basket Challenge' is a joyfully entertaining competition that families will love," Courtney White, president of Food Network, said in the official announcement. "With Sunny Anderson's inviting personality, there is nobody better at transporting viewers into this festive world featuring Easter-themed delights."
The popular co-host of "The Kitchen" will be joined by Jordan Andino and Claudia Sandoval, who have the enviable task of judging all the over-the-top, Easter-themed masterpieces.
In the first episode, the bakers will be challenged to create jelly bean-inspired, pop art-styled pastry tarts and some supersized sweets that could easily belong in an art museum. A later episode will feature the top-selling non-chocolate Easter treat, Peeps, which will form the basis for an edible Easter parade float. And the fact that Peeps will be featured at all should reassure fans of the marshmallow treat who weren't able to get their usual Halloween and Christmas fix after the pandemic forced a temporary production shutdown.
There will be plenty of other creative themes, including a runway challenge involving candy-laden Easter bonnets, and in the finale the remaining bakers will go all out in their attempt to construct a three-foot-tall Easter egg that would even impress the Easter Bunny.
So, if winter is standing in the way of watching spring flowers bloom, turn your attention to Food Network and discovery instead (at least for now) and catch the "Easter Basket Challenge" when it airs this Monday, March 1.