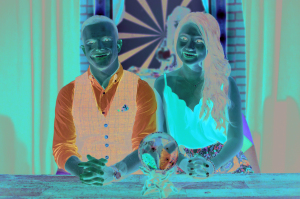 Zac Young and Vivian Chan host "Halloween Freakshow Cakes"
By now, you've probably seen enough cake-decorating shows to know you can make a cake version of practically anything. And if pushing cake and engineering boundaries is your thing, Halloween is the perfect holiday for scary, over-the-top creations that would be the stuff of nightmares if they weren't all made of sugar, flour and water.
From "Halloween Baking Championship" to "Halloween Wars," Food Network's lineup has been heavy on special-themed cake decorating challenges. But the craziest, creepiest cake designs are the ones featured on "Halloween Freakshow Cakes," a four-episode limited series that debuted on Food Network last week (Oct. 18) and continues with back-to-back episodes this Sunday, Oct. 25.
If you haven't tuned in yet but thought the title sounded familiar, "Freakshow Cakes" — without "Halloween" in its title — premiered last year on Cooking Channel. This year, it's been called up to fill a spot (or four, technically) in the Food Network roster. And other than the addition of "Halloween" to its title, not much has changed from the show's inaugural run.
Hosts Vivian Chan and Zac Young oversee the action that is all about making cake creations worthy of the most frightening carnival sideshow. In each episode, three teams of cake artists are given a Halloween-worthy theme and must race against the clock (and each other) to bake and decorate the wildest, most imaginative and almost nightmarish interpretation of that sinister theme. There are some added challenges, of course, but at the end of each episode, the "Halloween Freakshow" champion is crowned and awarded the prize of $10,000.
Each episode is self-contained, there's no weekly elimination to track (it's not possible given the limited run) and the format is a familiar one to Food Network viewers, so this is one "series" (technically specials) that you can easily jump into without seeing any prior episodes.
The themes for the Oct. 18 episodes were snake charming gone wrong and fire breathers. This Sunday's "double premieres" (per Food Network) will follow the contestants as they create mystical fortune teller cakes with a horrifying crystal ball vision. The fourth installment is all about creepy clowns and, in both episodes, the contestants also need to whip up a sideshow sweet that complements their cake creations, so it's not just about their decorating skills.
"Halloween Freakshow Cakes" is a wild ride that will appeal to cake lovers and viewers with a darker sense of humor. Tune in this Sunday, Oct. 25 to catch the action as Food Network wraps up its Halloween programming before shifting the focus to all things turkey.