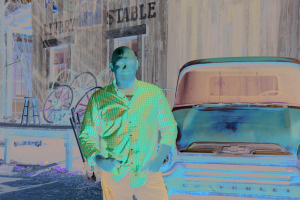 Michael Symon as seen in "BBQ Brawl: Flay v. Symon"
Think you know good barbecue? Bobby Flay definitely does. So does Michael Symon. And they're ready to fire up the grill in a TV battle over who can achieve slow-cooked protein perfection.
The four-part competition "BBQ Brawl: Flay v. Symon" is set to heat up the summer airwaves when it kicks off on Thursday, Aug. 1, on Food Network. The idea is that barbecue bragging rights are on the line for the two Iron Chefs and besties ... except they won't be directly competing against each other. Not the entire time, anyway.
Instead of manning the pits, each chef is tasked with mentoring and inspiring a team of seasoned barbecue pitmasters. They do go head to head in one challenge, in which they're tasked with grilling the perfect tomahawk ribeye, but their main task is to keep the competitors focused.
Team points aside, these challengers are the ones whose barbecue game will be judged by grilling experts Moe Cason, Chris Lilly and Amy Mills. And they're the ones who face elimination each week until the final two remain.
Who's going to win? It's hard to say. Flay and Symon are good friends who don't often compete against each other, but they're definitively competitive. Their playful banter alone may be interesting to watch.
In the end, the ultimate pit boss will be crowned "Master of 'Cue." They'll also get their own web series on FoodNetwork.com.
This week's episode takes place in the Lone Star State, specifically Austin, Texas, where you can find some of the country's best brisket. And before any arguments erupt about which regional style is best (I've tried and loved them all), know that future challenges include one that tests the pitmasters' ability to cook up any style -- from smokey Kansas City, well, everything, to old-school North Carolina hog.
Can't wait for the Aug. 1 premiere? Beginning Monday, July 29, viewers can access the digital companion series "BBQ Brawl: The Pre-Heat" on the Food Network app, where they'll find videos of Flay and Symon playing guessing games and taking blind taste tests.