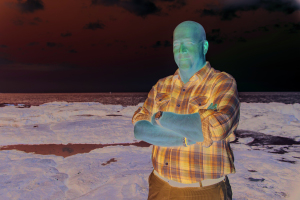 Andrew Zimmern hosts "Bizarre Foods America"
Feeling isolated and anxious during this coronavirus outbreak? In these unprecedented times, we're all trying to find ways of coping with uncertainty while safeguarding our health, and that includes our mental well-being.
Self-care has never been more important, and the best way to take some of the edge off is to focus on things you love. If that includes home cooking, it seems you're not alone because, lately, Instagram feeds are filled with photos of baked goods, comforting stews and sourdough loaves (my sourdough experiment is my slice of normal).
If you love to travel or find yourself craving something more unusual, well, that's a little tougher to satisfy. But you can let your imagination travel with Cooking Channel, your go-to destination for encores of favorite food travel shows -- especially since Travel Channel's lineup is filled with paranormal-themed series right now.
A lot of these shows are Travel Channel originals that have found a second home on Food Network's younger sister (all three channels are owned by Discovery). But they're the kinds of shows that don't really age, and can still be enjoyed as reruns.
"Bizarre Foods America" will get your TV travel week started. And while it might not take you to a land far, far away, it will introduce you to some unexpected destinations that don't require a passport. Host Andrew Zimmern takes viewers into the wilds of Central Florida in an Everglades-themed episode airing this Sunday (April 19), and the "bizarre food" for this one will include fried frog legs.
That's followed by "Food Paradise," which heads to the Midwest and America's heartland this Sunday. If you haven't seen it, this series is more focused on the food than the host. In fact, you'll only hear the voice of narrator Jesse Blaze Snider, a comic book writer and actor who also happens to be the son of Twisted Sister frontman Dee Snider.
Looking for a more exotic destination? "Delicious Destinations" is your ticket to global gastronomy and it, too, is hosted by Zimmern. This Wednesday's episode heads to the island paradise of Phuket, Thailand, where multicultural influences can be seen in offerings such as spicy crab curry and some street eats.
Whether you're stuck at home with time to fill or looking to take your mind off things, food and TV are the perfect pairing right now. Just be sure to keep things healthy and include a little daily exercise in your schedule, so you'll be fit to do greater things on the other side of this pandemic.