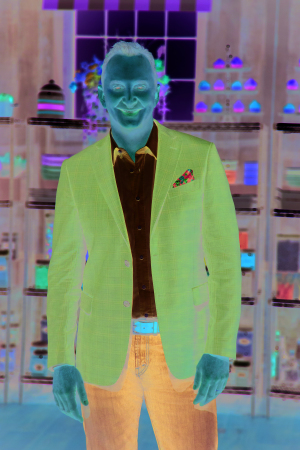 Clinton Kelly hosts "Spring Baking Championship"
Spring is (almost) here! Daylight is increasing, and if Punxsutawney Phil's prediction holds true, winter should be easing its grip on all of us, barring a few last temperature dips and tantrum-esque storms.
And in the Food Network universe, that means it's time for a new edition of "Spring Baking Championship." A solid ratings performer since its 2015 debut, the perennial fan favorite returns to our screens Monday, March 9, for a sixth season on Food Network.
Host Clinton Kelly is back to welcome a new batch of bakers to the kitchen. And things get off to a quick start in the premiere episode, when the 11 competitors are tasked with making "perfectly patterned spring fruit geometric tarts" that sweetly celebrate spring's beauty.
For the second round, they'll have to create a seasonal transformation-themed fault line -- think leaves sprouting, flowers blooming, caterpillars becoming butterflies. The decision to feature a fault line cake isn't surprising, given its high visual appeal. It's also the latest trend to have taken the cake world and Instagram feeds by storm, and it's certainly easier on the teeth than the candy-laden geode cakes that made a big impression in 2016.
You'll have to keep watching to find out what other confectionary creations will be featured, though I can say doughnuts and eclairs will be on the menu.
Once again, the judging panel consists of Nancy Fuller, Lorraine Pascale and the ace of cakes himself, Duff Goldman. They'll decide who will be eliminated and who will advance to the final round and get a shot at the $25,000 grand prize in the double-episode finale on April 27.
And considering the trio has presided over the proceedings since Season 1 (2015), one would think it gets tougher every year to impress their discerning, dessert-loving palates.
As for the host, this is Kelly's sophomore year after taking over hosting duties from Ali Khan ("Cheap Eats") last year. The lifestyle expert's hosting skills have already earned him an Emmy -- he won for ABC's "The Chew," but he's also known for his role in TLC's "What Not To Wear," which is getting the reboot treatment this year. In "Spring Baking Championship," Kelly brings a seasonal-appropriate warmth and enthusiasm that is clearly resonating with viewers, who will undoubtedly tune in on Monday when the new season begins.