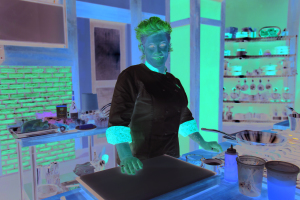 Anne Burrell, host of "Worst Cook in America: Halloween Redemption"
Halloween is the time for celebrating all things scary and, for many culinary-challenged souls, few things are as scary as the idea of having to prep, cook and serve a full spread for a special day.
That, however, is exactly what four former "Worst Cooks in America" recruits will have to do in the one-hour Food Network special, "Worst Cooks in America: Halloween Redemption," airing Sunday, Oct. 18.
The good news for these self-avowed non-chefs is that Halloween doesn't come with the same level of pressure, expectations and scrutiny as other food-centric occasions. In fact, Thanksgiving, arguably the toughest meal of the year, was the theme for the two previous "Redemption" specials: the first one in 2018, and "Thanksgiving Redemption 2" in 2019. But without the need for a labor-intensive focal point like roast turkey, this installment of "Redemption" will push competitors to have more fun with food.
If you saw the two previous specials, you know that "Halloween Redemption" features the same competition format but with different hosts (and theme, of course).
Chefs Anne Burrell and Carla Hall start things off by welcoming back the four former "Worst Cooks" recruits who are getting a second chance to improve their skills. Then it's on to the first challenge, in which the recruits are tasked with creating a dish that makes the most of the mystery ingredient assigned to them. After picking their teams, Burrell and Hall walk their recruits through all the steps to prepare a fun buffet for a special gathering on the spookiest night of the year. Whoever impresses the judges will win a kitchen upgrade worth $5,000 and, presumably, bragging rights. But it won't be easy: the judges include a panel of culinary experts, plus an entire group of picky party-goers and Halloween fanatics.
The "$5,000 in upgrades" prize is far less than the $25,000 grand prize awarded to Season 20 winner (aka "Best of the Worst"), Ari Robinson of Simpsonville, South Carolina; but keep in mind that a one-hour special like "Halloween: Redemption" doesn't take nearly as much time to produce as a full season of "Worst Cooks in America."
In fact, a recent casting call for Season 21 revealed that taping was scheduled to begin in mid-September and would continue over four consecutive weeks. Given that the contestants are normally sequestered during their time on the show, that represents a big-time commitment for those who manage to stave off elimination and compete in the finale.
Despite its shorter, one-time, one-hour format, you can probably expect "Worst Cooks in America: Halloween Redemption" to include the same kind of hilarious mishaps that have kept viewers hooked through 20 full seasons of the original series. Tune in this Sunday (Oct. 18) to catch all the action.