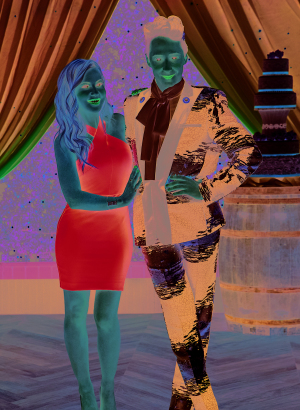 Tara Lipinski and Johnny Weir host "Wedding Cake Championship"
Cakes are a food for some of life's most special occasions. Birthdays, baptisms, retirement parties, baby showers -- cakes have a place at all of them, and is it any wonder why? They're sweet, they're delicious and they can be shaped and decorated in so many delightful ways.
For many, the most important cake of all is the one that's served on one of life's most special days. Wedding cakes are serious business, and Food Network is seeking out the best wedding cake bakers in "Wedding Cake Championship," premiering Monday, June 25.
In the premiere of the new series, six baking duos enter the kitchen prepared to show off what they can do over two challenging rounds. First, the teams tackle cake toppers, and the winners earn a special advantage in the elimination round. Then, they're tasked with designing a cake for a real couple.
"Wedding Cake Championship" isn't the only cake-based competition on Food Network, but it is the only one exclusively focused on those most special of baked goodies. After each challenge, the teams face a judging panel that includes "Chopped" judge Maneet Chauhan, acclaimed baker Kimberly Bailey and celebrity wedding planner David Tutera. In the premiere, the judges are joined by TLC's "Say Yes to the Dress" host Randy Fenoli, who helps introduce the first challenge.
As for the hosts, the series has recruited a sporty duo to fill the role. Former Olympic figure skaters Tara Lipinski and Johnny Weir earned rave reviews for their commentary during the figure skating events at the 2014 Sochi Winter Olympics, and they've reunited here.
In each week's episode, a single team will be sent packing until only three remain for the finale. At stake is a decadent $25,000 prize for the winning duo, but earning that won't be easy. In the finale's final challenge, the bakers will have to create a cake for Lipinski and her husband's first wedding anniversary, and they're a couple looking for the most impressive and over-the-top cake imaginable.
Wedding cakes are serious business, but that doesn't mean that they can't be fun. "Wedding Cake Championship" premieres Monday, June 25, on Food Network.