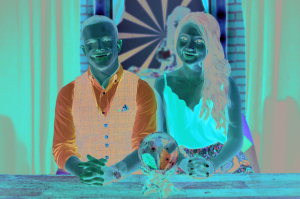 Zac Young and Vivian Chan co-host "Freakshow Cakes"
The popularity of carnival freak shows peaked in the late 19th century, when people like P.T. Barnum turned our fascination with the abnormal into entertainment for the masses.
Today, our appetite for curiosities and oddities hasn't diminished -- we just have television and YouTube to satiate it.
Besides, the word "freak show" doesn't necessarily conjure images of bearded ladies and giants anymore. In common parlance, it's just a label for anything strange, occasionally provocative, even fascinatingly grotesque. It's about standing out from the rest. And that's exactly what Cooking Channel hopes to accomplish with its newest cake-decorating competition.
Premiering Friday, Oct. 4, "Freakshow Cakes" is being touted as a "one-of-a-kind cake showdown" due to its uniquely themed challenges. It's a limited series, and it's just in time for Halloween month on Cooking Channel.
In each episode, "three of the most sinister cake artists" (per Cooking Channel's news release) compete to create the freakiest cake. The one with the wildest and most shockingly creative design will be crowned the Freakshow Champion and awarded the $10,000 prize.
The series title and its late time-slot seem to indicate that it's for a more mature audience, and it's not yet clear how far they'll go to create their creep-out cakes that tell a story. But we do know that the weekly themes will include scary clowns, snake charmers, fortune tellers and fire breathers (this is probably the only time you'd ever hope to see a cake smoke or burn).
The series features two hosts: pastry chef Zac Young and Vivian Chan, who is a digital culinary producer at Discovery.
If Young looks familiar, you may have seen him in Cooking Channel's "Unique Sweets," Bravo's "Top Chef: Just Desserts," and in Food Network shows such as "Beat Bobby Flay," "Chopped" and "Worst Cooks in America."
Off-screen, Young is the pastry director of Craveable Hospitality Group and the creator of the dessert equivalent to the Turducken: the PieCaken. It's the ultimate Thanksgiving meal ender when you can't decide between pecan pie, pumpkin pie and apple cake, because it combines all three into one glorious layered cake. It's an incredible showstopper for sure, and a complete horror to dietitians. And that kind of over-the-top creative flair is proof that Young is the right choice to host a show like "Freakshow Cakes."
So tune in on Friday, Oct. 4, and be prepared to jump clown-feet first into the spirit of Halloween.