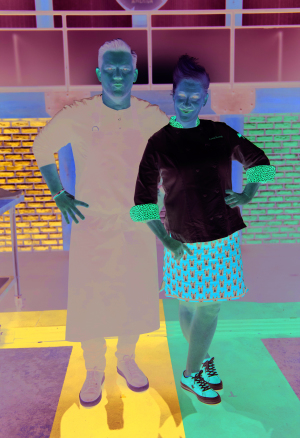 Tyler Florence and Anne Burrell from last year's "Worst Cooks in America" season
A still-frozen turkey? Lumpy gravy? Gluey mashed potatoes that could practically patch drywall?
Don't worry, these are some of the Thanksgiving mishaps that can happen to the best of us. When you add the stress of entertaining and feeding the whole family, that margin of error seems to increase with every extra place setting.
Now imagine having to prep a Thanksgiving meal in front of a national audience. It's an opportunity that some cooks relish, and a challenge that makes others cringe. Either way, Food Network is hoping it'll be entertaining to watch when it serves up a second helping of "Worst Cooks in America: Thanksgiving Redemption," airing Sunday, Nov. 10.
A stand-alone "Worst Cooks in America" special is just the kind of light fare that will entertain viewers without locking them into a multi-week commitment. And when you have just an hour to make an impression, it helps to feature a few familiar faces.
Host Anne Burrell has co-hosted every season of "Worst Cooks in America" (there have been 17 of them, if you're counting), and she's back for this second Turkey Day-themed installment. But with a new project rolling out later this month, Tyler Florence is unfortunately out for this year's edition. Instead, "Chopped" regular Scott Conant is stepping in as Burrell's co-host and rival team leader.
Who are the contestants? Four former "Worst Cooks" Boot Camp recruits, and Burrell and Conant will waste no time getting started: they'll task these once-maligned, now-improved competitors to prep a side dish using a well-known Thanksgiving ingredient. After that, the hosts will pick their teams and coach them through the necessary steps for preparing a palate-pleasing Thanksgiving feast.
As the title indicates, it's all about redemption for these contestants. Oh, and a grand prize of $5,000 worth of kitchen appliances and upgrades, too. Judges Esther Choi, Clifford Crooks and Jonathan Waxman are the culinary experts who will ultimately decide the winner when "Worst Cooks in America: Thanksgiving Redemption" airs this week.
In the meantime, we probably all have a story of something going wrong while prepping a Thanksgiving feast -- I once decided on a whim to roast chestnuts without knowing how to peel them. So have a laugh and share your biggest Thanksgiving meal mishaps with Food Network on social media, using #WorstCooks.