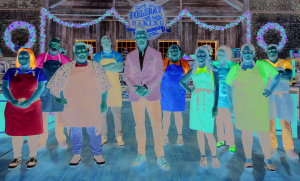 Host Jesse Palmer with the "Holiday Baking Championship" contestants
Thanksgiving is pretty much the unofficial kickoff to the holiday season, but Food Network's been quick out of the gate this year with both returning favorites and new surprises already underway a few weeks before Turkey Day. This year's "Holiday Baking Championship," always an audience favorite, got underway last week and is currently airing Monday evenings.
Former NFL quarterback Jesse Palmer returns to host this year's competition, which brings nine of the country's best holiday bakers together to vie for a $25,000 prize. That's a lot of dough, especially at this time of year, but earning it won't be easy with a series of insidiously tricky baking challenges standing between the contestants and the prize.
This week's episode, airing Monday, Nov. 12, gets the contestants into the Thanksgiving spirit a few weeks early. In the pre-heat challenge, the eight remaining bakers are divided into teams to make their favorite varieties of Thanksgiving pie. The Thanksgiving theme continues in the main heat challenge, in which the bakers are given a variety of seasonal ingredients and tasked with making beautiful stuffed cakes.
As in years past, baking experts Duff Goldman ("Ace of Cakes"), Nancy Fuller ("Farmhouse Rules") and Lorraine Pascale ("Worst Bakers in America") serve as judges, keeping a watchful eye on the contestants' every move and sampling all of their sweet and savory creations before deciding at the end of each episode which one of them has to hang up his or her apron for good.
It's a brutally tough competition, but it's also filled with holiday cheer. Over the course of the next several weeks, the bakers will be challenged to come up with seasonal desserts that make cranberries the star, make sweet treats that combat the post-turkey dinner sleepiness by incorporatating coffee, build cream puff displays inspired by holiday decorations and even make beautiful hand-painted eggnog cakes that taste as good as they look.
It's the most wonderful time of the year, especially for lovers of baked goods. "Holiday Baking Championship" currently airs Mondays on Food Network.