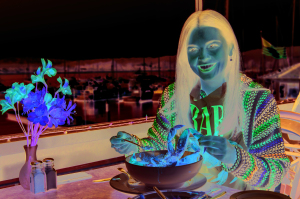 Katie Lee in "Beach Bites with Katie Lee"
OK, so summer may not officially start for a couple of weeks yet, but let's face it, the sizzling season is unofficially here. With the sun high in the sky and the mercury rising, nothing says "summer" better than a day at the beach.
Of course, even just lounging next to the surf will work up an appetite, and chef Katie Lee continues her search for the tastiest seaside nibbles in the new season of "Beach Bites with Katie Lee," which premieres Thursday, June 7, on Cooking Channel. Each episode finds the host of "The Kitchen" heading to a different oceanfront destination, where she tracks down some of the most delectable spots to stop by after a day in the sun.
In the premiere, Katie visits Mississippi's Gulf Coast, where she discovers that the region has become a hot spot for diverse and eclectic restaurants. Her first stop is in Biloxi, a historic town with incredible beaches where she gushes over gumbo made with crab fished right out of the nearby waters. She even gets the chance to head out and fish for her own seafood -- you can't get any fresher than that!
A little further east, in beautiful Ocean Springs, Katie tries another local specialty that isn't plucked from the sea: some of the best barbecue ribs that she's ever had below the Mason Dixon line. High praise, that! Her tour of the Mississippi coast is topped off with some fall-apart homemade buttery biscuits, cooling ice pops and a rich cup of chicory coffee.
In later episodes this season, Katie heads out to California's Catalina Island for Mexican-inspired carnitas nachos, digs into succulent fried chicken and shrimp off the coast of South Carolina, and even takes a trip to the Bahamas where she tastes the freshest conch salad imaginable.
Wherever she ends up, Katie finds the best beach-side food -- and always makes time for some sweet treats and tasty cocktails, of course. Catch the best grub that seaside destinations have to offer in the new season of "Beach Eats with Katie Lee," premiering Thursday, June 7, on Cooking Channel.