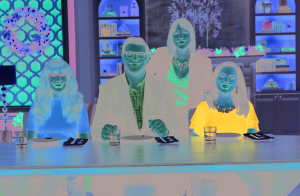 Mary Berg, Adam Young, Paige Davis and Maneet Chauhan as seen in "Holiday Gingerbread Showdown"
If December makes you feel like Cookie Monster from "Sesame Street," you're not alone. With all the bake sales and parties going on this month, the cookie has become the ubiquitous holiday goodie (sorry, fruitcake), and gingerbread still reigns supreme.
That's why it's no surprise to see "Holiday Gingerbread Showdown" return to the Food Network lineup this month. The 2019 edition kicks off Sunday, Dec. 1.
The four-part competition puts some of the country's top gingerbread artists to the test, and they've got bigger worries than gumdrop buttons and candy cane forests. In each episode, three contestants race against the clock to complete edible showpieces and construction projects that will put any single-story gingerbread house to shame.
Last year's inaugural edition was hosted by Marcela Valladolid and featured Molly Yeh, Adam Young and Kerry Vincent as judges. This year, Paige Davis is the host and perhaps her effervescent personality influenced some of this year's themes, which include "worst Christmas ever" and one of my holiday movie picks, "Gremlins" (the 1984 film celebrates its 35th anniversary this year).
Adam Young returns for another season, though Mary Berg and Maneet Chauhan will join him this time. Together, they'll determine a weekly winner before crowning the ultimate winner of the $25,000 grand prize during the Dec. 22 finale.
From a North Pole workshop to a canine Christmas scene, the show's elaborate creations are a far cry from the hard, shaped confections served at medieval fairs.
Ginger originated in Asia and it may have been introduced to Europe around the time of the Crusades. According to food writer Tori Avey of PBS Food's "The History Kitchen" blog, that's when many of our modern-day ginger-flavored baking traditions took root (pardon the pun).
Queen Elizabeth I and her court usually get the credit for elevating the "gingerbread man" cookie to the next level, with elaborately decorated and sometimes gilded creations made to resemble visiting dignitaries. In that same period, gingerbread earned a mention in Shakespeare's play "Love's Labour's Lost" ("An I had but one penny in the world, thou shouldst have it to buy ginger-bread").
As for the gingerbread house, it's a German tradition that dates back to the 16th century, although the molasses-ginger Lebkuchen cookie (also a Christmas treat) predates it by a few centuries.
Whether in a house, cookie or cake form, gingerbread traditions were brought to America by settlers -- George Washington's mother even made some (you'll find a recipe on mountvernon.org). And, happily, our holiday love affair with gingerbread has continued unabated.