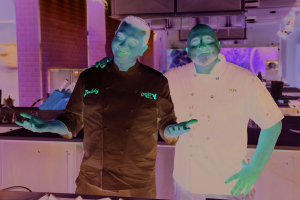 Buddy Valastro and Duff Goldman from "Buddy vs. Duff"
After Season 2 of "Buddy vs. Duff" wrapped last year, the show's Duff Goldman ("Ace of Cakes") tweeted "NO SEASON 3! NO!"
Maybe he changed his mind, or maybe the ratings were too good for Food Network to pass on a third installment, but Season 3 of "Buddy vs. Duff" is definitely happening -- in fact, it's premiering this Sunday, July 18, on Food Network and discovery .
Goldman was the winner of the tumultuous first season, which pulled in stellar ratings despite a lot of mixed reviews and some criticism directed at Buddy Valastro ("Cake Boss") for his on-screen antics. In an interview, Goldman said he and Valastro had bonded during that season, but we didn't really get a sense of it in Season 1. By contrast, Season 2 was a lot more upbeat and there was no sense of animosity.
Some of the show's rougher edges appeared to have been smoothed out, but there was still online speculation that the second round was about evening the score (Valastro won that season). So, with the "series" now tied at one win apiece, maybe Season 3 can break the tie and determine the winner of this baking brawl.
The eight-week competition is going to be a battle of East vs. West, as the famous cake artists and their teams will tackle challenges from their respective bakeries: Goldman in Los Angeles and Valastro in Hoboken, New Jersey. Each week, they'll be tasked with building the most elaborate cakes that fit the theme, whether it's a safari or monster cake, a dream car or an over-the-top pirate display.
Speaking of display, each team will have to present their creations in an event space that must be transformed into an immersive world according to each challenge and theme. It's sure to be eye candy for viewers and for the judges, all 50 of them -- this season, the judging will be performed virtually by professional cake artists from across the country.
It all begins (again) when the new season of "Buddy vs. Duff" premieres on July 18, right after the one-hour special look-back, "Buddy vs. Duff: Preheat." And if you're loving the team-based approach to this competition, tune in to "Buddy vs. Duff: Baker Battle" on Aug. 1 and 8, when the teams compete without their celebrity leaders.