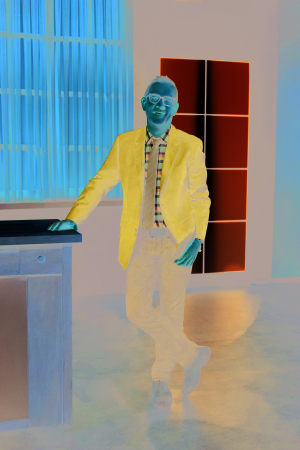 Ted Allen hosts "Chopped Champions"
Let's be honest: winning Food Network's "Chopped" isn't easy. Not only do the contestants have to outcook three other equally skilled chefs, but they also have to deal with a basket of must-use ingredients that run the gamut from household staples to the outright bizarre. And that's not all: throw in a ludicrously short amount of preparation time and all of the trappings that come from cooking in a TV studio, and you really can't fault the contestants that find themselves floundering.
So winning "Chopped" is already brag-worthy, but there's an even tougher challenge. The latest "Chopped Champions" tournament launches Tuesday, Oct. 9, on Food Network, with 16 previous winners returning to the Chopped Kitchen for a chance to take on their peers and take home a $50,000 prize. Of course, the bragging rights don't hurt, either.
As always, the irreplaceable Ted Allen ("Queer Eye") is in the kitchen as host, and a rotating panel of the series' regular judges, including Alex Guarnaschelli, Marc Murphy, Chris Santos, Maneet Chauhan, Scott Conant, Amanda Freitag and Geoffrey Zakarian, taste and critique each dish, ultimately deciding which chefs have served passable food -- and which will be chopped.
In Tuesday's premiere episode, there's excitement in the kitchen during the appetizer round when a fire extinguisher is needed for the first time in the history of "Chopped." Then, once they pop open the entree baskets, the contestants discover a combination of salty and sweet ingredients that need to be brought together in a harmonious way, while the dessert baskets contain an unconventional surprise.
Throughout the competition, the chefs face sweet and syrupy black garlic, take hammers to a novelty candy, struggle with miniature, time-consuming eggs, and are wowed by a massive chocolate surprise. After four episodes, only four of the 16 returning champions will be left, and in the toughest three-course meal of their lives, they'll face off to determine which one gets to take home the $50,000 prize.
The latest "Chopped Champions" tournament gets underway with 16 returning winners on Tuesday, Oct. 9, on Food Network.